Over 1.5 million people have been ordered to evacuate their homes while Hurricane Florence continues to barrel towards the East Coast.
According to a Tuesday morning advisory from the
National Hurricane Center
, the Category 4 storm is expected to strengthen, possibly to a Category 5, before it hits southeastern North Carolina early Thursday morning.
Florence, which is expected to be the largest storm the region has seen in over 30 years, is currently moving at a speed of 15 mph, roughly 950 miles off the coast of North Carolina, with maximum sustained wind speeds of 140 mph.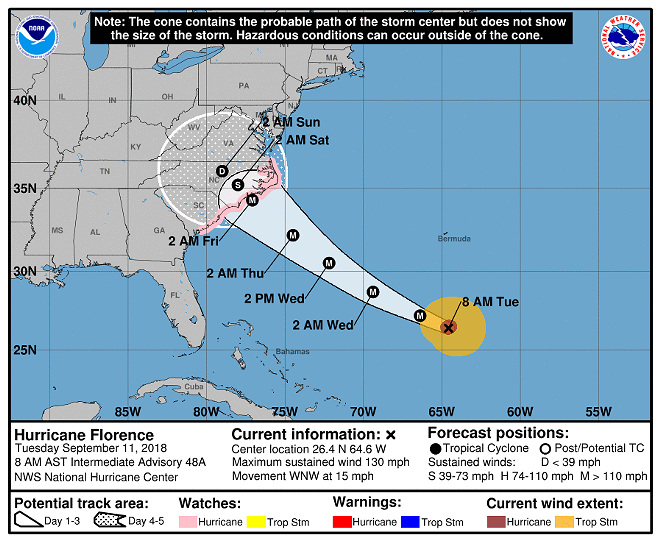 Yesterday, South Carolina Governor Henry McMaster, North Carolina Governor Roy Cooper and Virginia Governor Ralph Northam ordered residents along the coastline to begin evacuating Tuesday at noon.
Last night, President Trump also called for a federal state of emergency in the Carolinas, which will allow FEMA and other government assistance to begin mobilizing resources immediately.
In response to the storm, the president cancelled a planned campaign rally in Mississippi.
Florence is expected to grow to roughly the same size as the entire state of North Carolina by the time it makes landfall, and poses three major main threats: wind, heavy rain, and storm surge. On top of that, experts are extremely concerned of the storm parking over the region and producing up to 20-40 inches of rain, similar to last year's
Hurricane Harvey in Texas
.
While Florence is not on track to impact Florida, Governor Rick Scott took to Twitter Monday afternoon urging Floridians to stay vigilant and to continue to monitor the storm.
At the moment, none of three named storms currently in the Atlantic (Florence, Isaac, and Helene) pose any threat to Florida.
Stay on top of Orlando news and views. Sign up for our weekly Headlines newsletter.