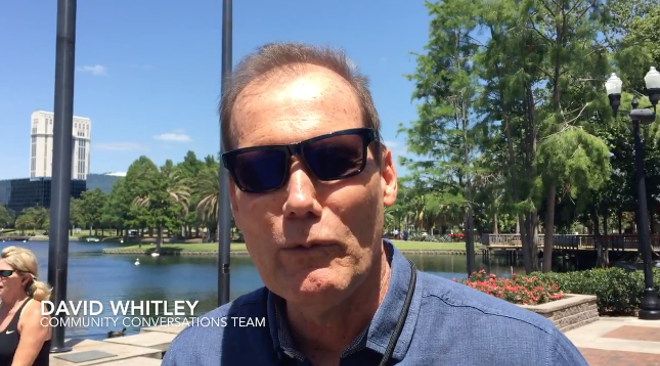 Screen gab via Orlando Sentinel
David Whitley, the
Orlando Sentinel's
senior columnist and a man struggling to understand how false equivalencies work, published an amazingly mush-brained piece this morning arguing that "
If you think Ron DeSantis is a racist, then Andrew Gillum may be one, too
."
Though many of Whitley's column ideas seem to be inspired by the comment section of a Trump story, this particular "hot take" was in response to the recent
Washington Post
story on how DeSantis spoke at multiple "racially charged events" alongside notable characters like Steve Bannon, Sebastian Gorka and Milo Yiannopoulos.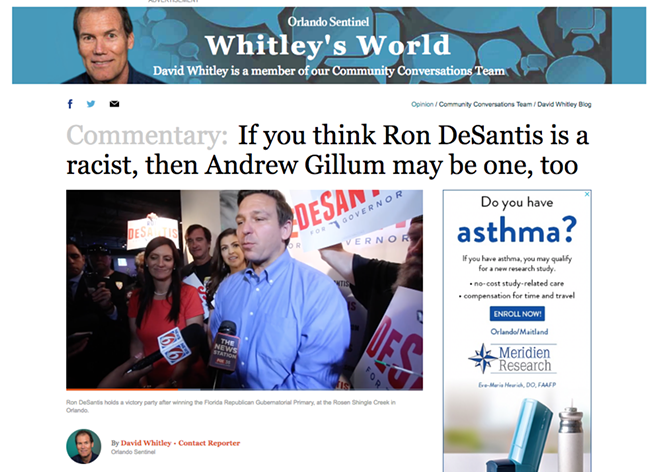 Screengrab via Orlando Sentinel
According to the
Washington Post
, DeSantis spoke four times at Restoration Weekend, an annual conservative meetup that has covered such topics as the putative war on whites, the idea that black Americans owe their freedom to white people, and lots of general all-around Muslim-bashing.
The reason this is even a story at all is because DeSantis is running for the highest public office in Florida. Unfortunately for the GOP, he was once the administrator of a Facebook group
packed with racist memes;
he recently "accidentally"
associated Gillum with monkeys
; and he once referred to New York congressional candidate Alexandria Ocasio-Cortez, who is a Puerto Rican woman, as "
whatever she is
."
Despite all of this, Whitley argues that DeSantis' regular appearances alongside the most outwardly hateful members of the right should be merely chalked up as "innuendo, supposition and guilt by association."
"Don't be surprised if the
Post
soon reports that DeSantis is the Exalted Cyclops of the Ku Klux Klan," jokes Whitley, after presumably taking a massive rip from a white privilege bong.
It's the old "I'm not racist, he's a racist" argument, and Whitley seems to honestly believe that Gillum is somehow on the same scale as the guy whose entire platform is based on a Trump endorsement and slandering immigrants.
But Whitley gives it his best shot and argues that Gillum has also been to political events, notably the Netroots Nation conference and Muslim Capitol Day, and he also has friends, like Democratic National Committee Keith Ellison. This is literally Whitley's main argument on how Gillum might be a secretly racist black man.
Here's Whitley:
Which brings us to Gillum's association with Jewish hate groups.
One of the other speakers Netroots Nation 2017 was Keith Ellison, deputy chair of the Democratic National Committee and longtime pal of Rev. Louis Farrakhan.

Farrakhan's Nation of Islam organization is so virulently anti-Semitic that even the left-leaning Southern Poverty Law Center has labeled it a hate group. By Washington Post standards, it wouldn't be a reach to say Gillum "spoke at a conference where provocateurs sympathetic to hate groups gather." Or how about his welcome speech at Florida Muslim Capitol Day 2014?

The event is annually sponsored by the Florida chapter of the Council on Islamic-American Relations. Critics of CAIR have long cited its links to terrorist organization Hamas, although those were before Hamas was designated a terrorist organization. The United Arab Emirates has labeled CAIR itself a terrorist organization.
For one, how is playing six degrees of separation with Louis Farrakhan in any way similar to DeSantis knowingly and repeatedly hanging out with people like Milo Yiannapolis, who's known for statements like "
Islam is AIDS
" ?
Also, CAIR has zero proven ties to any terrorist group. This talking point has only been made by noted research experts like Breitbart News Network,
xenophobic congressmen
and the UAE, which put out a vague list in 2014 of
80 groups they believe are "terrorists."
However, many on the list, like CAIR, aren't listed by the U.S. government as terrorist groups, and have never been convicted of a crime.
Most importantly, Whitley casually leaves out the fact that
Gillum is a huge Israel supporter and has actually vowed support for anti-BDS legislation
, which has been a sticking point for a large chunk of his progressive base.
But today's dumb column shouldn't come as much of a surprise to anyone; it's very much on-brand for Whitley. "
Is it too much to ask breastfeeding women to cover up?
," "
Disney gets sucked into straw hysteria
" and "
Nike gets political with Kaepernick deal. Time to run from The Swoosh
" are just a few of his best.
However, if I had to choose an all-time favorite Whitley column, it would probably be a tie between the one where he bemoans media hysteria while simultaneously referring to the "Stand Your Ground" shooting in Clearwater as "
Trayvon II
," and the one where he argues that
Mr. Rogers would've been upset with Trump protesters.

Stay on top of Orlando news and views. Sign up for our weekly Headlines newsletter.