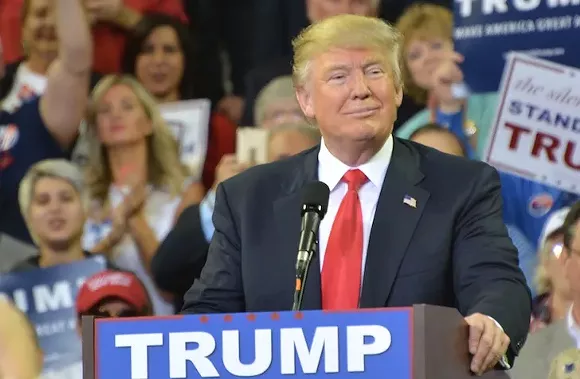 In the same vein of conspiracy theorists convinced the Pulse mass shooting was a
hoax
or that the 9/11 terrorist attacks were an
inside job
, President Donald Trump has revealed himself to be a hurricane truther.
Despite all evidence to the contrary, Trump denied reality Thursday morning by tweeting that an estimated 3,000 people did not die in Puerto Rico after Hurricane María.
Let's break down Trump's incredibly stupid lie.
In the days after the 2017 storm, the
Centro de Periodismo Investigativo
in Puerto Rico was already pointing out that fatalities related to conditions caused by the hurricane's aftermath, like patients who could not access medical services like oxygen and dialysis, were continuing to accumulate by the dozens. Hospital morgues in places the Puerto Rican government could not reach were already at capacity.
When Trump arrived in Puerto Rico two weeks after María has caused catastrophic damage across the island to throw some
paper towels
, the majority of people still had no electricity, no potable water and no way to communicate with their loved ones because cellphone towers were down. The official death toll at the time from the Puerto Rican government was 16 people – though it was pretty clear to everyone (except for Trump, apparently) that the number would continue to rise as roads were cleared and first responders could reach other parts of the island previously inaccessible.
Puerto Rico Gov. Ricardo Rosselló finally increased the official death toll of 64 fatalities last month after a government-commissioned report from
George Washington University
found that in the five months after María, an estimated 2,975 people died. A previous study released in May from Harvard University found that at least 793 and as many as 8,498 fatalities could be attributed to María's aftermath, with a midpoint estimate of 4,645 deaths. The Harvard study cited interruption of medical care as the primary cause of high mortality rates in Puerto Rico in the months after María, particularly chronically ill people dependent on medicine and equipment that required electricity and other basic utilities.
Trump, who has called his administration's response to the catastrophe in Puerto Rico an "
unsung success
," probably doesn't believe his own hurricane truther bullshit. But it is a way to distract people from the doubts that remain about the federal government's aid to the U.S. territory after the disaster. In a
July report
, FEMA acknowledged some of its failures in the response to Puerto Rico, including unqualified staff and a lack of "situational awareness" regarding what was happening on the island.
Aside from deflecting the truth of the federal government's actions toward its colony, Trump's awful tweets are disrespectful to people in Puerto Rico who are still mourning their dead loved ones a year after the storm and now have to deal with the president essentially saying their grief is "fake news."
"The victims of Puerto Rico and the Puerto Rican people in general don't deserve to have their pain questioned," Rosselló said in a
Facebook video
after Trump's remarks.
Understandably, some Democratic and Republican Florida lawmakers are outraged – even Gov. Rick Scott, who in the past has been Trump's ally.
Stay on top of Orlando news and views. Sign up for our weekly Headlines newsletter.