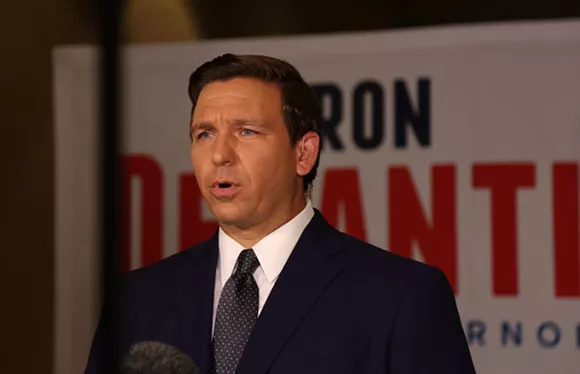 Not even an entire month into the general election, GOP gubernatorial candidate and former two-term congressman Ron DeSantis' track record involving racially tinged controversies continues to grow.
According to a new report from the
Florida Center for Investigative Reporting
, in October 2017, DeSantis spoke at a conference organized by ACT for America in Washington. In his speech, DeSantis, who resigned from his U.S. House seat last month to focus on his run for governor, suggested that asylum seekers are ripping off the nation's taxpayers and that the Obama administration didn't properly vet refugees entering the U.S.
"He said absolutely nothing controversial," Stephen Lawson, DeSantis' spokesman, told FCIR. "Ron DeSantis will never apologize for his service and fighting to keep America safe."
Listen DeSantis' speech for yourself. Full audio is available here, via FCIR.
ACT for America, an organization with close ties to President Donald Trump, is known for its frequent anti-Muslim sentiment. The group's founder, Brigitte Gabriel, proclaimed in a 2007 lecture that Muslims "cannot be loyal citizens of the United States." According to reporting from
HuffPost
, in recent months, the group has been associated with neo-Nazis.
"Tens of thousands of Islamic militants now reside in America, operating in sleeper cells, attending our colleges and universities, even infiltrating our government," ACT for America's website
once provocatively claimed
. "They are here – today. Many have been here for years. Waiting. Preparing."
Founded in 2007, ACT for America – shorthand for the organization's former name, "American Congress for Truth" – characterizes itself as the "largest national security grassroots organization."
The Southern Poverty Law Center describes ACT for America an an anti-Muslim hate group. The organization has a history of arguing that
Sharia law
, or Islamic law, is unsuitable for western society and
spreading conspiracy theories
pertaining to Muslim refugees.
The Anti-Defamation League also labels the organization as one of the nation's largest anti-Muslim groups that "propagates the hateful conspiracy theory that Muslims are infiltrating U.S. institutions in order to impose Sharia law."
ACT for America disagrees with these characterizations.
According to an Aug. 28 statement from the group, "ACT for America has never, and will never, tolerate any bias, discrimination or violence against anyone, based on their religion, gender, race or political persuasion."
DeSantis' comments fall in line with the candidate's recent political gaffes, including using the phrase "monkey this up" while speaking about his African American gubernatorial candidate following his primary win. He has also defended a supporter who asked him to bring back "the hanging tree."
Stay on top of Orlando news and views. Sign up for our weekly Headlines newsletter.