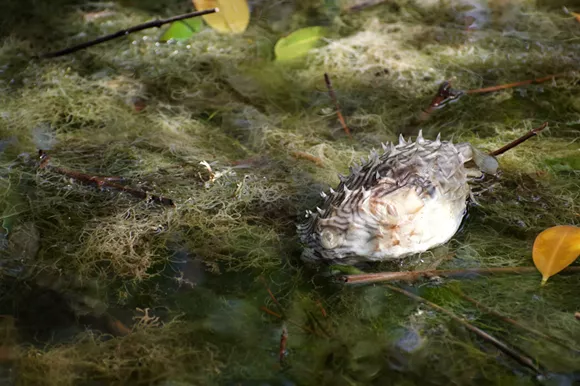 Photo by Monivette Cordeiro
A dead pufferfish found on the edge of Merritt Island near the Banana River lagoon during the fish kill last March.
The Florida Department of Environmental Protection is pumping another $4 million into efforts to help local communities suffering from red tide and a massive algae outbreak, raising spending to $13 million for the water problems.
The agency's money will be used in Pinellas, Manatee, Collier, Sarasota, Lee and Martin counties.
The added spending, announced Tuesday by Gov. Rick Scott's office, came a day after the Scott administration said the Florida Fish and Wildlife Conservation Commission is directing $1.2 million for research and production of redfish at a facility at Port Manatee.
The hatchery money will help the commission address the effects of red tide on redfish in coastal areas.
Red tide recently has led to fish kills in Southwest Florida.
Stay on top of Orlando news and views. Sign up for our weekly Headlines newsletter.