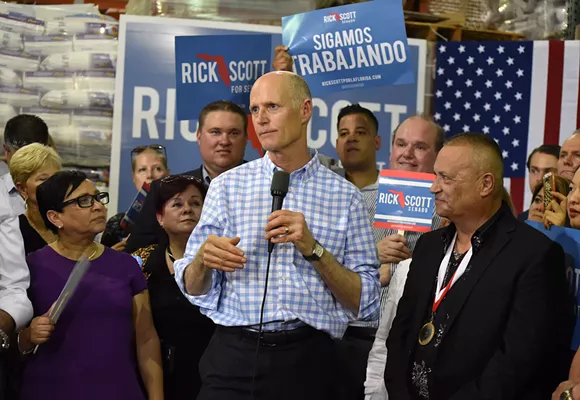 Photo by Monivette Cordeiro
After a week of being
booed
and
run out of a restaurant
by protesters angry over Florida's toxic red tide crisis, Gov. Rick Scott is now calling for wildlife officials to create a state red tide research center and re-establish an algae bloom task force.
The state has been dealing with toxic algae problems for years now for numerous reasons, including the continuous
environmental missteps
of state officials (Remember our
goopy guacamole beaches
?).
Nevertheless, in a
letter
to the Florida Fish and Wildlife Conservation Commission, the Republican governor wrote that although the state has made "tremendous strides" in dealing with the red tide algae blooms currently killing marine life and causing respiratory issues on the Gulf coast, more must be done. On Wednesday, Scott's office also announced the state
Department of Environmental Protection would put another
$4 million
to helping communities affected by red tide, raising spending on algae issues to $13 million so far.
"This year's devastating bloom has left no question – we must increase our efforts to find a cause and solution for naturally occurring red tide," Scott wrote.
Scott asked the FWC to consider creating a "Florida Center for Red Tide Research," which would be run by a person in the newly created position of "Florida's Director of Red Tide Response."
"This person should report to the FWC Executive Director and should provide regular updates to the Commission and the public on red tide," Scott said. "This person should serve as the central contact for Florida communities and as a resource for how to minimize the effects of red tide."
Scott also called on wildlife commissioners to request more funding from the state Legislature for "red tide research and funding for a competitive grant program to find innovative solutions." The governor also wants the FWC to reconvene the Florida Harmful Algal Bloom Task Force to "help combat harmful algal blooms across the state." The original task force of "scientists, engineers, economists, and representatives from citizen groups" was created in 1999, according to Calusa Waterkeeper John Cassani in a
N
ews-Press
opinion piece. The state quickly defunded the panel in 2001.
"The funding for red tide has remained consistent throughout my time as Governor, but the Legislature should fully fund these initiatives and continue to provide funding for research to find solutions," Scott wrote.
Sounds to us like someone is trying really hard to avoid the "Red Tide Rick" nickname sticking to him during his U.S. Senate race again incumbent Democrat Bill Nelson.
Stay on top of Orlando news and views. Sign up for our weekly Headlines newsletter.