A political action committee will fly a massive banner with the phrase "Impeachment Now" over Orlando for the next few days.
The group
Mad Dog PAC
, which is headed by Claude Taylor, a former staff member in Bill Clinton's White House, is behind the MOAB (mother of all banners) project, which they say is the "world's largest impeachment banner."
As of now, the planned flight schedule calls for the banner to be flown along the 408 on Friday, Sept. 1, before the UCF vs. East Carolina football game, from 3 to 6 p.m. It will also fly over downtown Orlando on Saturday, Sept. 22, near Orlando City Stadium before the Lions and Dynamo match, from 4 p.m. to 7 p.m. Then on Sunday, Sept. 23, along I-4 and near the theme parks from 11 a.m. to 3 p.m.
Mad Dog PAC is also responsible for memorable billboards, like the one asking Florida Rep. Matt Gaetz
how many DUIs he's had
, or the one where they call the
NRA a terrorist organization
, and more recently, the roving "Trump Tweet Truck" attacking Ted Cruz.
The group is currently working to get a "Trump Tweet Truck" to Florida, which will showcase the president's
tweet
from last week falsely claiming that nearly 3,000 Americans in Puerto Rico "did not die."
You can donate to that project
here.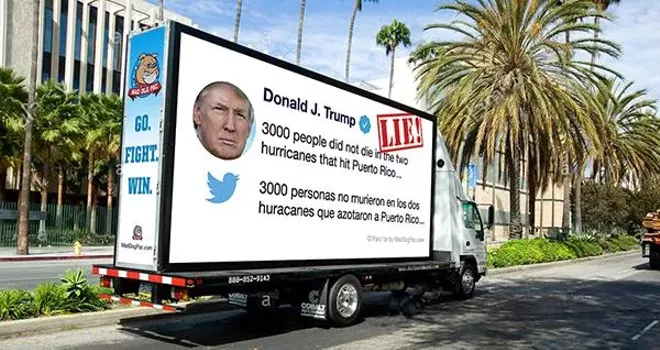 S
tay on top of Orlando news and views. Sign up for our weekly Headlines newsletter.