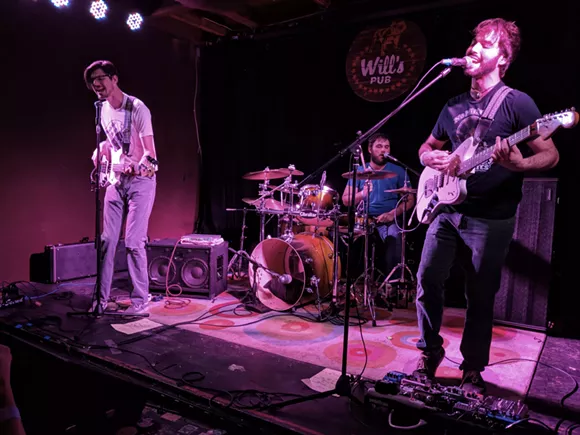 Welcome to
Orlando Weekly
's "
Band of the Week
." Every week, we highlight one of our favorite local bands. This week, we're pleased to bring you the
Grizzly Atoms
.
The Grizzly Atoms are playing their EP release show on Sept. 30 at Will's Pub with the Welzeins, Bubble Boys, and Z.
Just the facts:
When did the band form?
Somewhere around the summer of 2010

Who's in the band?
Nik Sidella- Guitar/lead vocals
Rob Weisenbarger - Drums/ Vocals
Justin McCarthy- Bass/Vocals
Currently available releases:
The Grizzly Atoms EP
(2011)
Brave New World
(2013)
Witness
(2016)
Burnout Legend
(2018)
To be released September 30th!
Websites:

Bandcamp

Facebook
Describe your sound in five words:

21st Century Rock and Roll!
Five questions:

What has been your most memorable show so far?

A while ago we had this song we were working on called "Kill Computer" and we decided for this festival that we played that Nik would destroy a computer with a guitar on stage. We all went ham for that show and then when it happened, a part of the guitar flew off at one point and hit our friend, Grant in the head. He was fine, but it's hard to forget that moment!
Which local band is your favorite one to play a show with?

Pleasures! They're out of St. Pete, so local to FL for sure. The opportunity to just see them and their level of musicianship on top of that crazy light show they have is crazy enough. But to be able to play alongside them is pretty stellar!
What description gets used for your band that you would most like to correct people on? Why?

Can't think of a specific description that we hear more than once...but we get a lot of Sasquatch hunters that come to us all the time about Rob, thinking they've found Bigfoot. We'd like to this opportunity to let the world know that he is just a regular 'ole human being.
What's your favorite thing about being an Orlando band? What's your least favorite? Why?

They both kind of stem from the same thing actually. It's all about the size of the scene here. Orlando doesn't have a gigantic live music scene, at least not compared to a city like New York, or Nashville or something; but that's pretty cool because the people who do music here do it because they love it. As a result people tend to have each other's backs. It feels pretty tight knit. It's almost like having the best of both worlds. Not big enough to invite the potential egotism of a huge scene, but just enough local support to keep it alive.
On the other hand though it can be frustrating getting people who are outside of that smaller community of artists and fans in on the action sometimes. It's like we're hidden in plain sight. Like a hidden secret.
Any big news to share?

Our new EP,
Burnout Legend
! It's the first one that was completely mixed and recorded purely by the band. Justin really took the reins on the mix, and the result feels like the most accurate capture of our sound thus far! Comes out Sep 30th!