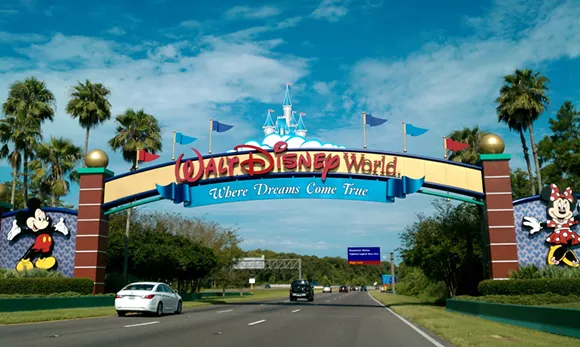 Just like taxes and death, there's no escape Disney World's annual price increases.
In recent years the annual event has become biannual, with increases every spring and fall. In early 2016, Disney World introduced
demand-based pricing
that saw tickets to the theme parks range in price by more than $20 based on expected crowd levels that time of year for the theme parks. That was only for one-day tickets.
Now, Disney is looking to take this demand-based pricing even further with a
complete redo
of its ticket offerings and website. The new system launches October 16, but previously purchased tickets will still be accepted on the dates those tickets specify.
DisneyWorld.com
where they'll be presented with information about the four theme parks and two water parks that make up Walt Disney World.
After a user selects how many days they plan to visit and the resort, a calendar will appear that shows prices for those dates. Demand based pricing will be used for all tickets, including multi-day ones. There will also be options at this step for the user to instead see when the lowest priced tickets over the next year will be.
a tutorial video
posted on the Disney Parks YouTube channel.
After the dates, length, and type of ticket have been selected the user can then complete their purchase. When the purchase is complete, the user will be automatically taken to a page that explains the My Disney Experience website and app where guests can make dining and ride reservations.
All four theme parks will have the same base admission price, unlike previously where the Magic Kingdom had admission tickets that were priced slightly higher than the other three theme parks. The cheapest tickets have increased from $102 to $109 but, for now, the most expensive one day, one park ticket with no upgrades is still $129.
Disney
has been clear
that they will be posting the full calendar year of prices come October 16 and once published the prices will not fluctuate.
Fluctuating, demand-based pricing is nothing new to theme parks. Earlier this year SeaWorld transitioned both Busch Gardens Tampa and SeaWorld Orlando to
demand-based parking
rates. Unlike Disney, SeaWorld does not post the daily price for parking on its website, and the online parking rate does not fluctuate. Guests can purchase the online parking rate for $22, after taxes, even on days when the in-person rate is as high as $32.
SeaWorld allows for cell phones to be scanned to verify tickets, meaning guests can purchase the parking tickets on their phone while waiting at the parking toll booth and save an upwards of $10.
Other segments of the tourism industry, including airlines and hotels, have been using demand-based pricing for years. Many of the criticisms around the use of it, including SeaWorld's use of it, is the confusion on how much a ticket or room actually costs.
Users can see dramatically different prices based on what day of the week or time of day they look up the prices. For now, Disney's system doesn't seem nearly that dynamic, and they've been clear about the prices being posted well in advance.
However, Disney has been hosting various events in the Orlando parks that could be a test for a ticketing system that even factors in time of day the admission voucher is redeemed.
At Hollywood Studios, guests can purchase a $79 ticket ($69 for children) that gives them 75 minutes in Toy Story Land before the park officially opens. Included with the early access is breakfast at a nearby restaurant.
This is the second such "
Early Morning Magic
" offering at Walt Disney World after a Fantasyland version of the event began in the Magic Kingdom two years ago. The Fantasyland version is $10 cheaper than the Toy Story Land. Also in the Magic Kingdom, is another semi-new offering,
Disney After Hours
. This event has tickets which are slightly more expensive than a regular one day, one park ticket. Beginning at 7 p.m., the After Hours event offers free snacks and headliner attractions. Despite not all attractions being open during the After Hours event, lines are nearly nonexistent due to a limited number of tickets being sold for the event.
Both the morning offerings and the After Hours events point to a possible future with not only date but also time-specific admission tickets. This is not uncommon in museums, movie theaters, car-sharing apps, or other tourist attractions where long lines can form. Many guests
to
Walt Disney World seem to now be using these special events in lieu of regular park tickets or as a way to extend their visit to the theme parks.
For now, Disney looks to be streamlining the primary ticketing offerings with less focus on the special events. The process gives users fewer ticket options while also better-incentivizing visits on less crowded days, such as mid-week in March instead of a weekend in early July.
The
website
where users can purchase park admission tickets will now also have more information about what each park offers, travel tips from Disney Parks Moms Panelists, and recommendations based on the user interests all in an updated, easier to navigate website.
Tickets can also still be purchased over the phone, in-person, and via third-party vendors.
Stay on top of Orlando news and views. Sign up for our weekly Headlines newsletter.