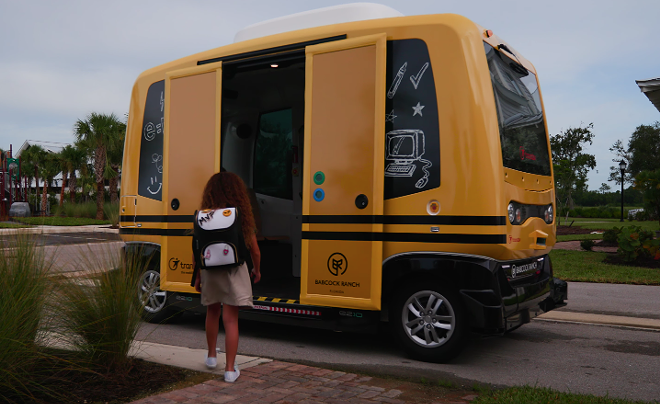 Babcock Ranch, a solar-powered community outside Fort Myers, is the first city in the world to test autonomous school buses.
Yep, that's right. The community has partnered with Transdev, an international private public transport operator, to launch the pilot program for the EasyMile Easy10 Gen II, a pod-like vehicle (think: an old school iPod on wheels) that, as you might have guessed, runs completely on electricity. The shuttles can transport up to 12 children at a time.
But why test something as controversial as autonomous cars on transporting children?
It's worth noting that the shuttles cruise at just 8 mph, and the vehicles' highest speed is 30 mph. The shuttles are also equipped with an automatic brake system, and each vehicle has a safety assistant on board.
An April AAA survey found that 73 percent of adults still don't trust driverless cars. That number is down from 80 percent last year.
In a news release, the company claims it spent months testing the new technology prior to implementing the pilot.
The Babcock Ranch pilot program is the only one of its kind in Florida. Transdev is also undertaking a pilot program for the Jacksonville Transportation Authority, where they're testing the city's "Ultimate Urban Circulator" project, and the Gainesville Regional Transit System, where the autonomous vehicles are connecting passengers from the University of Florida to Downtown Gainesville.
Stay on top of Orlando news and views. Sign up for our weekly Headlines newsletter.