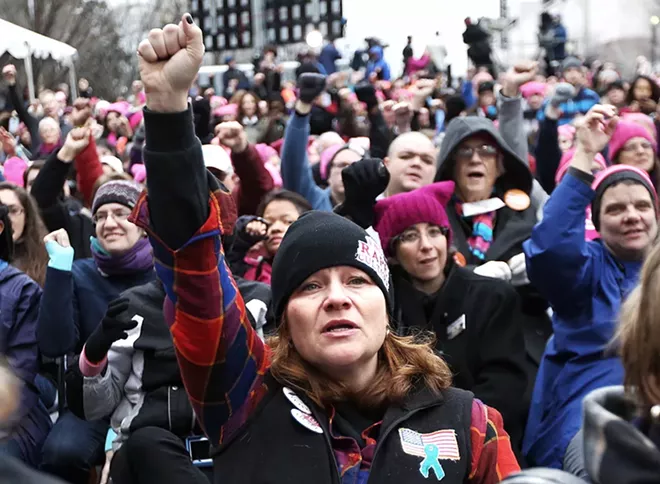 As
Christine Blasey Ford
testifies about her accusations of sexual assault against U.S. Supreme Court nominee Brett Kavanaugh in front of the Senate Judiciary Committee Thursday morning, local activists are planning an
afternoon rally
at Sen. Marco Rubio's Orlando office against Kavanaugh.
The noon Sept. 27 rally at 201 S. Orange Ave. will include attendees speaking about surviving trauma and a moment of silence at 12:30 p.m., according to Women's March organizers.
Activists are also planning to deliver letters to Rubio's office asking Florida's junior senator to vote against Kavanaugh's confirmation.
In early August, Rubio met with Kavanaugh and said he was "qualified."
"Even before meeting with Judge Kavanaugh, it was evident that he is a qualified, mainstream jurist who possesses the right temperament and experience to serve on the U.S. Supreme Court," Rubio said in a statement. "During my conversation with Judge Kavanaugh, he articulated an unwavering commitment to original intent, judicial restraint, and the understanding that the Supreme Court should be a 'trier of law' appellate court and not a 'trier of fact' trial court. … I intend to support his nomination because of his stated commitment to interpreting and defending the Constitution as written."
Rubio, though, has since told the
Tampa Bay Times
that the allegations against Kavanaugh are "very serious" and need to be "fully listened to."
Vox
reports the Senate Judiciary Committee has asked Kavanaugh about a fourth allegation of "sexually aggressive behavior toward women." Aside from Ford,
Deborah Ramirez
and
Julie Swetnick
have come out publicly with sexual misconduct allegations against the nominee.
Stay on top of Orlando news and views. Sign up for our weekly Headlines newsletter.