THIS LITTLE UNDERGROUND
Tony Lewis of the Outfield, Velvet Sessions, Sept. 28

1980s British rock band the
Outfield
weren't technically a one-hit wonder. But their 1985 smash "Your Love" was so hooking and omnipresent that it effectively eclipsed their other several hits.
Moreover, though they became enshrined in the decade's zeitgeist with that song, they never quite parlayed it into a legacy franchise despite launching their career with two solid albums. In fact, they're one of those cases where everyone knows their hit song but only a fraction know the name of the actual band that did it. But I am not one of these casual fans.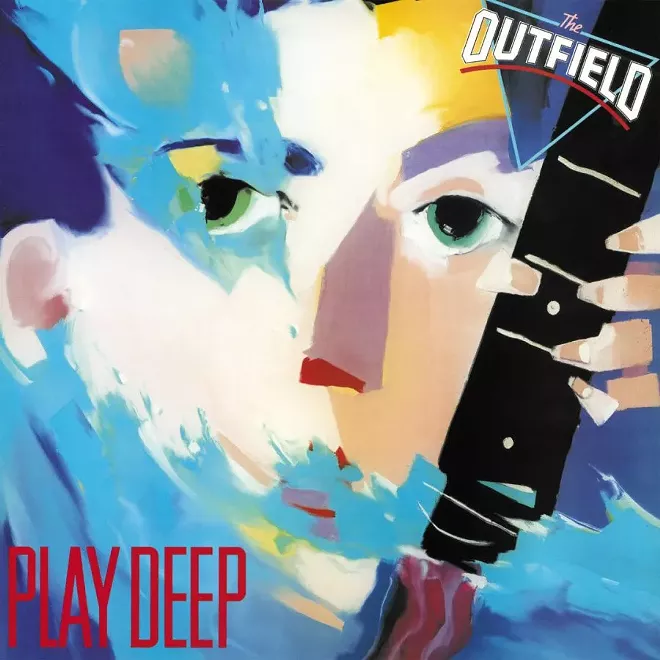 The Outfield's 1985 debut LP Play Deep
Because my fervor for the Outfield first bloomed when I was a child, I was never able to see them in concert during their relevancy. Their only stop in my city was on a school night, so the only thing I was able to swing was sneaking past my parentally set roaming boundaries on my little BMX to ride up to a big suburban record store for a packed-out daytime autograph event. To this day, I still have that
signed bumper sticker.
Bao Le-Huu
Autographed Outfield sticker
But like so much other pop-culture ephemera, the band could've just become a relic of my indiscriminate youth, eventually shed with maturity. They, however, had somehow latched onto my psyche. This wasn't intellectual or musicological, this was
basic pop instinct,
pure and simple, shallow yet deep, and definitely beyond reason.
I finally got the chance to see them as an adult, at the dawn of an entirely new millennium, at an outdoor stage at Pleasure Island as part of a
retro bill.
I saw them after the concert just hanging out with each other in PI nightclub 8 Trax. I geeked and bought them a round. Although very much after the fact, at least I got to see them as an original band. Since songwriter-guitarist John Spinks succumbed to cancer in 2014, that opportunity is gone.
But now here I am, almost another two decades later, still clinging to the dream at an appearance by singer
Tony Lewis,
who is just emerging on his own with a debut solo album (
Out of the Darkness
).
Tony Lewis's Out of the Darkness LP
I've heard the record. Let's just say that it makes obvious who the Outfield's songwriting force was, and Tony Lewis is no John Spinks. But John Spinks didn't have that
soaring, silver voice
either, the one that defined the Outfield sound more than anything else.
The Outfield's John Spinks and Tony Lewis
Thankfully, Lewis played it more smart than deep, sticking largely to the Outfield's repertoire and only sneaking in maybe a couple of his new solo songs. Most importantly, though, that legendary voice was reasonably intact, a feat after this many decades for such a high, crystal thing.
Bao Le-Huu
Tony Lewis at the Velvet Sessions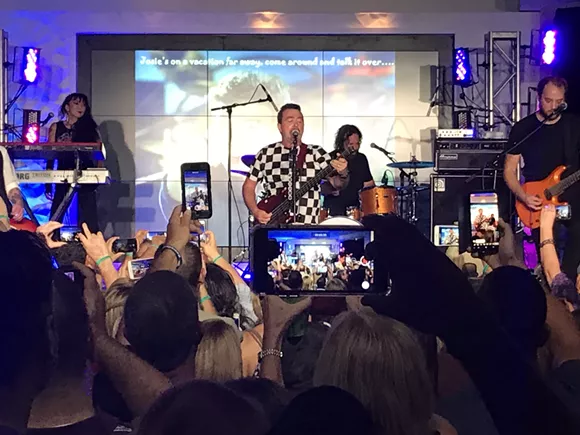 Bao Le-Huu
Tony Lewis at the Velvet Sessions
His backing band was serviceable. But memo to the lead guitarist in the background: You are there to
faithfully replicate
some beloved songs, nobody needs your extra notes or heroics.
Bao Le-Huu
Tony Lewis at the Velvet Sessions
It's hard sometimes to rationalize pop appeal that happens on a purely primal level. When it hits the bull's eye though – yours, mine, anybody's – it's also unnecessary. And candy though it may be, the Outfield's music is nonetheless sweet, shining and occasionally perfect pop-rock.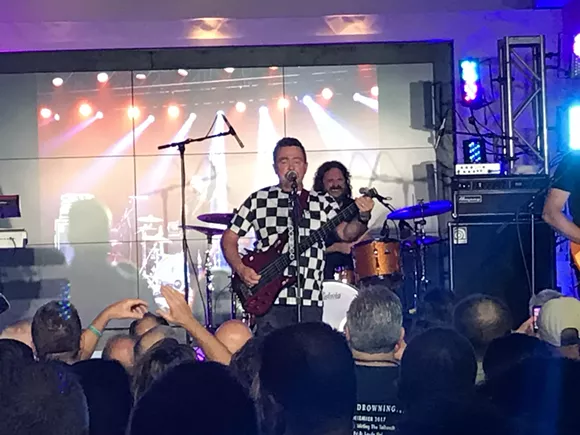 Bao Le-Huu
Tony Lewis at the Velvet Sessions
Bao Le-Huu
Tony Lewis at the Velvet Sessions
Bao Le-Huu
Tony Lewis at the Velvet Sessions
Bao Le-Huu
Tony Lewis at the Velvet Sessions
Follow Bao on Twitter (@baolehuu)
Email Bao: baolehuu@orlandoweekly.com