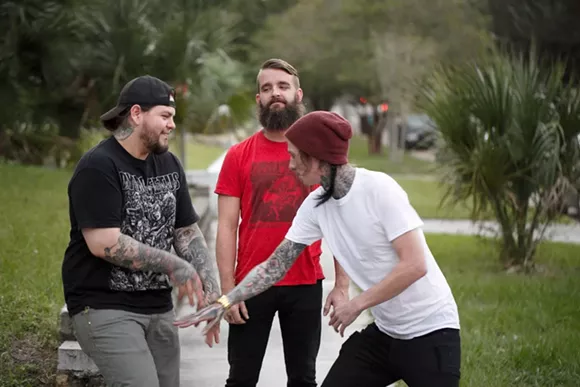 Welcome to
Orlando Weekly
's "
Band of the Week
." Every week, we highlight one of our favorite local bands. This week, we're pleased to bring you
Demonfuck
.
Just the facts:
When did the band form?

December 2016
Who's in the band?

Robbie, Justin, Drigo. Vocals, Guitar, Drums.

Currently available releases:

Our debut EP
As Above, So Blow Me!
will be out early November on all major music apps.
Websites:

Facebook
Instagram
Upcoming shows:

We will be playing with the bloodletting tour with Arsis and Decrepit Birth on October 21 at the Haven Lounge.
Describe your sound in five words:

Extreme technical experimental street metal
Five questions:

What has been your most memorable show so far?

On May 15 this year, we opened our first national show for Demilich, Artificial Brain, and Blood Incantation.
Which local band is your favorite one to play a show with?

It's hard to choose. We really enjoy playing with all the local bands from around here. Local band, why? Everyone is talented and fun to hang out with.
What description gets used for your band that you would most like to correct people on? Why?

There's really no correction, most people's opinions about our music are usually spot on. Everything we do is for our own sanity, fun and rebuilding the scene one show at a time.
What's your favorite thing about being an Orlando band? What's your least favorite? Why?

Favorite thing? The energy and our fans who consistently return. The scene isn't what it used to be , but we keep meeting new bands and friends from all over Florida.
Any big news to share?

We will be releasing our EP and music video early November. We will also be playing with the Bloodletting tour on October 21.