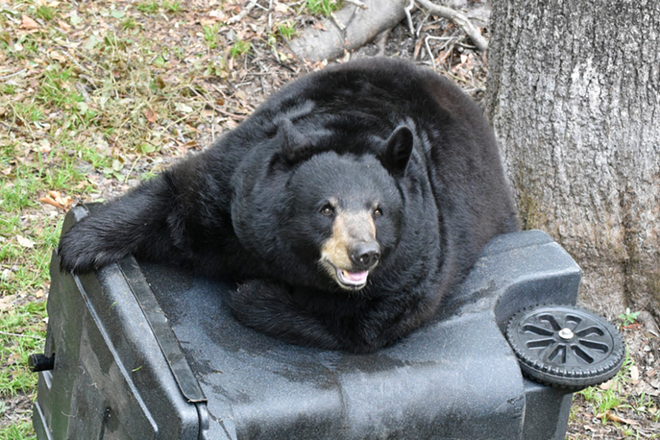 Photo via Florida Fish and Wildlife Conservation Commission
As fall rolls in, Florida black bear activity is increasing, so the Florida Fish and Wildlife Conservation Commission is urging people to be "BearWise."
According to an FWC press release, getting food from a garbage can provides bears with more calories in a shorter amount of time, which is why they're drawn to residential areas.
"We are assisting local governments with advice and funding to help them be more BearWise," said Dave Telesco, head of the FWC's Bear Management Program. "But everyone has a role. The best way people can help is by keeping trash secure from bears."
Here are some suggestions from the FWC on keeping bears away from your home:
Secure household garbage in a sturdy shed, garage or a wildlife-resistant container.

Put household garbage out on the morning of pickup rather than the night before.

Secure commercial garbage in bear-resistant dumpsters.

Protect gardens, bee yards, compost and livestock with electric fencing.

Encourage your homeowner's association or local government to institute ordinances to require trash be secured from bears.

Feed pets indoors or bring in dishes after feeding. Clean grills and store them in a secure place.

Remove wildlife feeders or make them bear-resistant.

Pick ripe fruit from trees and remove fallen fruit from the ground.

Also, if you see someone intentionally feeding or attracting bears, the FWC asks you to call their Wildlife Alert Hotline at 1-888-404-3922.
Stay on top of Orlando news and views. Sign up for our weekly Headlines newsletter.