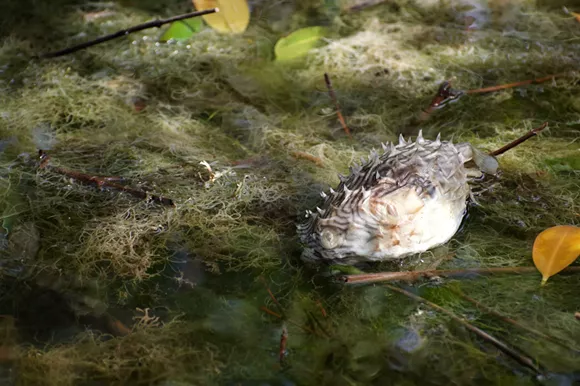 Photo by Monivette Cordeiro
A dead pufferfish found on the edge of Merritt Island near the Banana River lagoon during the fish kill last March.
Samples taken by the Florida Fish and Wildlife Conservation Commission show that an organism tied to most red tides in Florida is at least present within the coastal waters near Palm Beach County.
According to the National Oceanic and Atmospheric Administration, moderate red tide conditions are expected through Friday. In a news release, the
FWC
claims that the levels observed off the Atlantic Coast are significantly less than those documented off coastal West Florida.
Scientists began testing water samples taken up to seven miles offshore after beachgoers complained of scratchy throats, coughing and skin irritations this past weekend. All 11 samples taken from the Atlantic Coast tested positive for very low to medium concentrations of red tide and the single-cell algae
Karenia brevis
that causes it, the
Palm Beach Post
reports.
"With red tide now observed on Florida's Atlantic Coast, we aren't wasting any time combatting this natural phenomenon," Gov. Rick Scott said in a statement. "Over the past 61 years, scientists at FWC have documented red tide in Florida's Atlantic waters nine times, and now, just as we've done on the Gulf Coast, we are absolutely committed to quickly deploying every available resource our Atlantic Coast community may need to combat and mitigate red tide."
After cutting nearly $$700 million from Florida's environmental agencies – which oversee things like algae outbreaks – Scott has been assigned a big share of the blame for the Sunshine State's most recent red tide crisis. Earlier this month, during a campaign stop at Mojos Real Cuban in Venice, Scott was booed out of the restaurant after only 10 minutes by a mixed crowd of angry protesters and supporters. (Meet "
Red-Tide Rick
.")
Since 1953, 57 red tide outbreaks have been documented in the Gulf of Mexico – eight of which have been carried to the Palm Beach County via east coast currents, the
Post
reports.
Palm Beach County's beaches are set to open Wednesday. Cities in the surrounding area have been allowed to make the decisions on whether to open swimming for beachgoers or to keep water access restricted.
Stay on top of Orlando news and views. Sign up for our weekly Headlines newsletter.