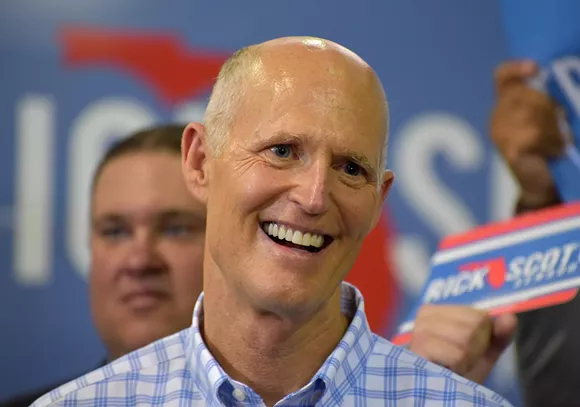 Photo by Monivette Cordeiro
As beaches across Florida's Atlantic coast
closed
due to the continuing spread of toxic red tide, Gov. Rick Scott directed $3 million Thursday to the counties most recently affected by the crisis.
The state Department of Environmental Protection will offer $3 million in grants to St. Lucie, Martin, Palm Beach, Broward and Miami-Dade Counties to help mitigate the effects of red tide, according to a news release from Scott's office. Impacted counties have also been contacted by DEP and the Florida Fish and Wildlife Conservation Commission to make sure they have resources to combat red tide.
"In Florida, when presented with problems, we work together and face them head on – red tide is no different," Scott said in a statement. "So far, the state has provided more than $16 million to help minimize the impacts of harmful algal blooms and expand our research and understanding of red tide, including funding to help scientists test innovative solutions for this phenomenon. We will continue to work with our local partners to ensure that their needs are fully met until this year's red tide subsides."
So far, thousands of fish, dolphins, manatees, sea turtles and other marine life have been killed by toxins produced by
Karenia brevis
algae, a single-celled organism. Just breathing in the toxins from red tide can cause
respiratory problems
for humans like coughing and sneezing, as well as eye irritations. Although this naturally occurring algae has been documented in Florida since the 1840s, this particular red tide outbreak has gone on since November and inspired multiple protests. People across the state have
booed
the governor during his U.S. Senate campaign and called him "
Red Tide Rick
" for gutting Florida's environmental oversight agencies during his time in office by about $700 million, among other things.
The latest $3 million in funding is part of a grant program launched in July by DEP that has given $16 million so far to counties along the coast for red tide and blue-green algae. In September, Scott also called for the
FWC
to create a state red tide research center and re-establish an algae bloom task force.
Stay on top of Orlando news and views. Sign up for our weekly Headlines newsletter.