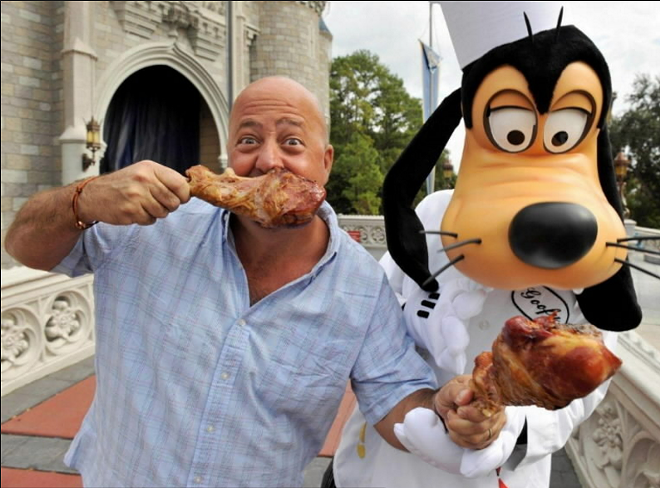 Photo courtesy Walt Disney World Resorts
I mean, if Andrew Zimmern likes them, turkey legs can't be all bad, right?
In an odd move, Disney World carried out a significant increase of food and beverage prices across property recently in the middle of this year's Epcot International Food & Wine Festival.
The move means updates anywhere and on anything that mentions prices. While the new price increases are permanent, the rollout required updates at
nearly every festival booth
(most were updated in less than 24 hours). The increases come less than a day into Disney's new fiscal year, which began on Oct. 1, and less than a week after the resort moved all admission tickets to
a demand-based system
.
Turkey legs saw the most significant increase, jumping from $11.75 to $13.25. Mickey pretzels (now $7), frozen slush drinks (now $5.50) and bottled soda (now $4.50) had a full dollar added to their price. Many Epcot Food and Wine food items also saw a $1 increase.
Ice cream novelties, like the Mickey Bars, saw a 75-cent increase, to $5.75. Popcorn is now priced at $5. Bottled water (now $3.50), Dole Whips (now $4.99), and Epcot beer flights (now $9.50) all went up 50 cents. Prices of most other food and beverage items increased at least 25cents.
Some have speculated
that the increases might be an attempt to push more guests into purchasing a Disney Dining Plan. Since launching in 2005, the prepaid meal packages known as the Disney Dining Plan have seen numerous updates. When
this year's plans
debuted, the prices had increased between $4 and $10 per person, but alcoholic drinks were added as well. The plans included not only primary meals but also snacks throughout the day.
More price increases are expected across the resort over the next 12 to 18 months as they prepare for the record-breaking crowds that are expected in 2020, once
Star Wars: Galaxy's Edge
opens, and 2021, for WDW's 50th Anniversary special.