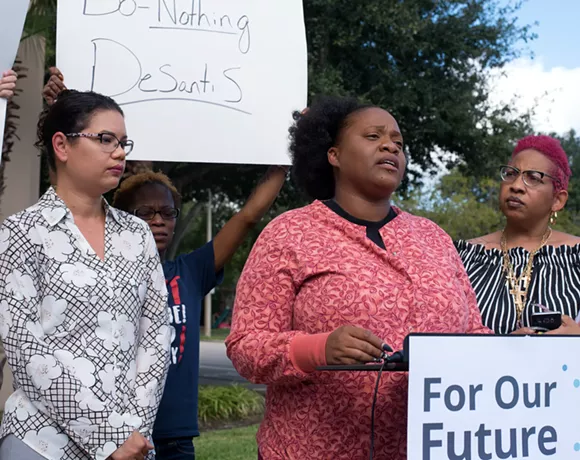 Photo by Monivette Cordeiro
Advocates for affordable housing stood in front of the Orlando Housing Authority Friday to call attention to the crisis that Central Florida families face when it comes to finding a place to live.
The city of Orlando-Kissimmee-Sanford area ranks second worst among the country's major metropolitan areas for available affordable housing, with only 17 rental units available for every 100 extremely low-income renters, according to a 2018 report from the
National Low Income Housing Coalition
.
About
one out of every three households
in Orlando is considered "cost-burdened," which means people are spending more than 30 percent of their income on rent or mortgage rather than food, transportation, health care and other necessities. Renters in the Orlando metro area need to earn at least $16.33 per hour ($33,960 a year) just to afford a studio apartment and not be rent burdened, the
NLIHC
found in a 2018 report. People who earned Florida's minimum wage of $8.25 per hour would have to work
84 hours a week
just to rent a modest one-bedroom at fair-market rates.
"Florida is facing an affordable housing crisis," says state Sen. Victor Torres, D-Orlando. "Rick Scott and the Florida GOP have taken from the Sadowski fund over a billion dollars from the working poor during his administration. We need to change Tallahassee, and the only way we can change Tallahassee is by electing a new governor – and that governor has to be Andrew Gillum."
Gov. Rick Scott and Republican lawmakers have also been criticized for raiding the state's Sadowski Affordable Housing Trust Fund to plug money into other areas of the budget. In the past 18 years, Florida has swept about $2.2 billion from the fund to balance the budget,
WKMG 6
reports. Scott is currently running for U.S. Senate against incumbent Democrat U.S. Sen. Bill Nelson.
Gillum, the Democratic Tallahassee mayor vying to become Florida's next governor, has
stated
that the Sunshine State has "an affordable housing crisis" and vowed to invest in housing to "make sure Floridians can afford to live in the Sunshine State." His Republican opponent, former U.S. Rep. Ron DeSantis, hasn't yet
publicly addressed
Florida's affordable housing crisis.
"Rick Scott likes to talk about Florida's economy when he's on the campaign trail," says Orange County Commissioner Emily Bonilla. "But the reality is that nearly half of Floridians qualify as working poor. … Instead of doing something to help low-income families find safe, clean and affordable housing, Rick Scott and the Republican leadership in Tallahassee have taken the money and swept it into the general budget to cover for their own poor accounting skills."
Photo by Monivette Cordeiro
Kaydra Bonamy, a certified nursing assistant who lives in Orlando, says she has to work more than 70 hours a week earning $11 per hour to afford her $1,000 apartment – and sometimes, she still struggles to pay all her bills. Her co-workers earn anywhere from an $8.25 hourly wage to $10, and many are living in hotels because they can't find affordable housing.
"I don't think that working people should have to work two and three jobs to make ends meet," she says. "I myself with health conditions cannot afford health insurance and my $1,000 rent. I've seen how most of my colleagues aren't able to afford insurance. We're taking care of sick people on a day-to-day basis, and we cannot afford health care for ourselves."
Tiffany Kelly, a community activist and circles coach at St. Luke's United Methodist Church, says she has been a recipient of both public housing and Section 8 housing. Without affordable housing, Kelly says she wouldn't have been able to go to school – instead, she would have been stuck working two jobs just to keep a roof over her family.
"I have achieved very much," she says. "I have a master's degree. I work in this community, but I would not have been able to be a contributing member to this society had I not had affordable housing some point. It allowed me to work toward my goals. It has allowed me to work on my children's needs. It is a must for economic stability."
At St. Luke's, Kelly works to transform the lives of people experiencing poverty, and in the process, she also helps people who are wealthier understand the
actual struggles
of someone who doesn't have resources.
"A lot of people don't realize how hard people in poverty work," she says. "One of my clients didn't have a car, so she spent six hours a day to go to work an eight-hour job because she had to rely on public transportation. That's 14 hours a day, six of it for no pay."
Kelly adds that most funding has gone toward poverty relief and management – not poverty elimination. Lawmakers, she reasons, feel like they're dumping money into a problem with no return on investment.
"If we can demonstrate that there are programs that actually work to get people out of poverty, perhaps they would not be so reserved in contributing to those programs," she says. "Toxic charity and poverty management are not working. Do not come to my community and give me another turkey. Do not give me a bicycle and take your picture and feel that you've done well. Give me a tool that's going to serve me and my children for the rest of our lives to get us out of this situation. I don't want your turkey."
Stay on top of Orlando news and views. Sign up for our weekly Headlines newsletter.