U.S. Rep. Ron DeSantis' campaign for Florida governor is apparently breaking into the piggy bank – in fact, he's enclosed a $1 bill in letters to potential donors, and he expects you to donate it right back.
It gets better: DeSantis' campaign is actually asking those who received the letter and accompanying $1 bill to donate that very same money right back to the campaign – plus up to $1,000 more – or else risk his Democratic opponent Andrew Gillum's "dangerous socialist agenda."
"Unless I can get you to help today – there is a very real possibility that I could lose and our next Governor will be a liberal Democrat ...," the letter reads.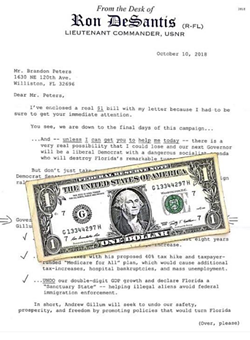 Screen grab via Twitter.com/kswills
The goal, according to the letter, is to tally $4.3 million in the lead up to the Nov. 6 general election.
The DeSantis campaign fundraising letter
Orlando Weekly
tracked down on social media
didn't include the text in whole. However, the
Orlando Sentinel
was provided the letter by a Central Florida resident. According to the
Sentinel
's report, the letter continues:
"As Governor I will build on Rick Scott's successful reforms and take Florida to a whole new level," the letter reads. "Radical Democrat Andrew Gillum will undo those reforms and drag Florida down to the level of failed socialist states like Venezuela."
"I hope the $1 bill I enclosed got your attention because I'm locked up in a toss-up race with a radical Democrat whose socialist policies would destroy all of the economic gains we've made in the past eight years. I hope and pray I can count on you one final time before Election Day to make the most generous and urgently-needed ALL HANDS ON DECK GIFT of $500, $750 or $1,000 before it's too late. Thank you!"
We reached out to the DeSantis campaign for comment but did not hear back by press time. We'll update this story if they get back to us.
Stay on top of Orlando news and views. Sign up for our weekly Headlines newsletter.