South Florida law enforcement are investigating a suspicious package sent to the office of U.S. Rep. Debbie Wasserman Schultz hours after other top Democrats, including Hillary Clinton and former President Barack Obama, were sent crude explosive devices.
No one has been harmed physically by these homemade devices, which reportedly resemble pipe bombs.
BuzzFeed News
reports the explosive devices intended for the Clintons' home in New York and Obamas' home in Washington, D.C. were intercepted by Secret Service on Wednesday. On Tuesday, an explosive device was found in the mailbox of liberal billionaire donor George Soros at his New York home.
CNN
reported later on Wednesday that a suspicious package containing a live explosive device and white powder was sent to the station's offices in New York City addressed to former CIA director John Brennan. BuzzFeed reports a suspicious package addressed to California Democratic U.S. Rep. Maxine Waters was also intercepted in Maryland.
The suspicious package received at Wasserman Schultz' office in Sunrise and Wednesday is currently being investigated by local law enforcement and the FBI, according to the
Associated Press
.
The package sent to Wasserman Schultz was originally intended for former U.S. Attorney General Eric Holder. The address for Holder was wrong, and Wasserman Schultz's office in Sunrise was the return address. The
Miami Herald
reports the packages meant for Clinton, Obama, Brennan and Soros also had the Sunrise office as their return address.
Wasserman Schultz, who is the former chairwoman of the Democratic National Committee, is often the target of conspiracy theories and trolling from far-right groups. Obama, Clinton, Holder and Waters have also been targeted by these groups. Brennan is a frequent critic of President Donald Trump, and Trump has also targeted CNN and the press at large for their coverage of his administration.
"It is a troubling time," Clinton said Wednesday at a Democratic campaign event in Florida. "It's a time of deep divisions and we have to do everything we can to bring our country together."
UPDATE:
The
FBI
released a photo of one of the packages with a return address for Rep. Wasserman Schultz.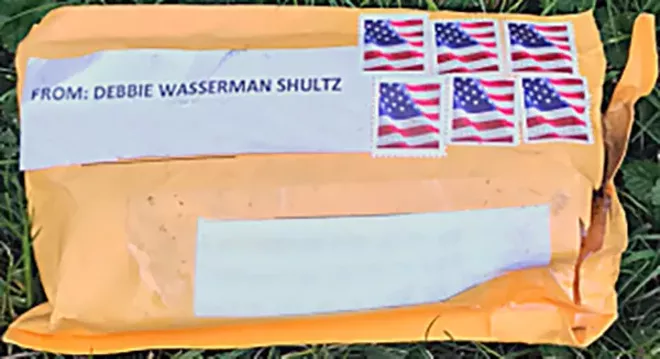 The packages are being analyzed at the FBI Laboratory in Virginia, according to the agency. They are all similar in appearance, with each manila envelope containing "potentially destructive devices" and a return address for Wasserman Schultz.
"This investigation is of the highest priority for the FBI," said FBI Director Christopher Wray in a statement. "We have committed the full strength of the FBI's resources and, together with our partners on our Joint Terrorism Task Forces, we will continue to work to identify and arrest whoever is responsible for sending these packages. We ask anyone who may have information to contact the FBI. Do not hesitate to call; no piece of information is too small to help us in this investigation."
In a statement, the Florida Congresswoman said she was "deeply disturbed by the way my name was used." She clarified that only the Sunrise office received a suspicious package, but her Aventura office was evacuated out of caution.
"We will not be intimidated by this attempted act of violence," Wasserman Schultz said. "This appalling attack on our democracy must be vigorously prosecuted. … My staff and I will hug each other and our loved ones tightly, and tomorrow get back to work serving the people I was elected to represent."

Stay on top of Orlando news and views. Sign up for our weekly
Headlines newsletter.