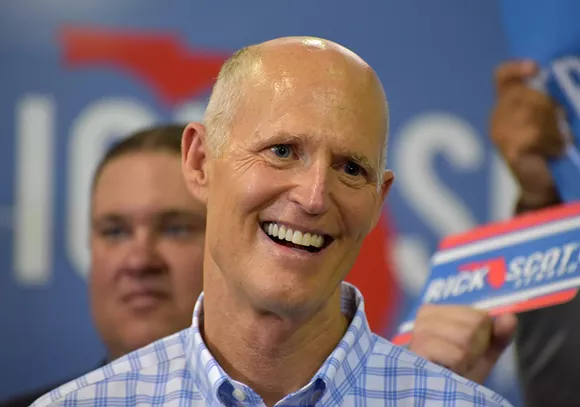 Photo by Monivette Cordeiro
A state appeals court Monday overturned a lower-court decision that ordered Gov. Rick Scott's office to release records about his schedule and travel plans.
A three-judge panel of the 1st District Court of Appeal said some information, "such as drive times and arrival and departure times," is shielded from disclosure, while a circuit judge must inspect other records from the governor's office before deciding if they can be released to the AIDS Healthcare Foundation.
The foundation filed a public-records lawsuit in July as part of a series of legal battles that came after the state Agency for Health Care Administration did not renew a five-year contract with the foundation's Positive Healthcare plan to provide Medicaid services in Broward, Miami-Dade and Monroe counties.
Leon County Circuit Judge Charles Dodson ruled in favor of the foundation in the public-records lawsuit and ordered Scott to produce records that covered his schedule from late July to Oct. 31. Lawyers for Scott have argued that disclosing Scott's locations ahead of time would reveal surveillance tactics of the Florida Department of Law Enforcement and endanger the governor's security.
In overturning Dodson's ruling, appeals-court judges Joseph Lewis, Harvey Jay and Lori Rowe pointed to an affidavit from Darrick Waller, assistant special agent in charge of the Florida Department of Law Enforcement. The appeals court said Dodson must do an "in camera" inspection before ruling whether records can be released.
In a concurring opinion, Rowe argued that the requested records were "sensitive" and would compromise the ability of the governor's security detail to keep him safe. The decision sending the case back to Dodson means the issues likely will not be resolved before the end of the time period covered by the initial request.
McKinley Lewis, a spokesman for Scott, referred Monday to earlier statements about the case and an email exchange between the parties that showed the foundation would be willing to drop the case if Positive Healthcare were awarded a Medicaid managed-care contract.
Attempts to contact AIDS Healthcare Foundation attorneys were not immediately successful. The foundation has been locked in other litigation with Scott's administration, including a case asking an administrative law judge to nullify Medicaid managed-care contracts. A decision in that case is pending, according to the state Division of Administrative Hearings website.
Stay on top of Orlando news and views. Sign up for our weekly Headlines newsletter.