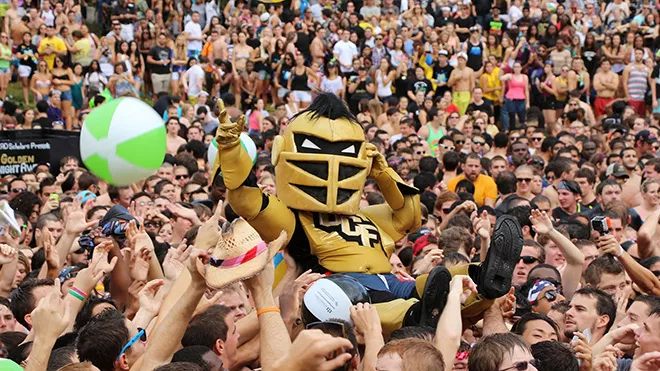 Unsurprisingly, the University of Central Florida Knights were left out of the College Football Playoff committee's top 10 rankings, released Tuesday.
The committee ranked the 7-0 Knights at No. 12 – the highest ranking ever for a Group of Five team in the modern CFP Rankings – behind the two-loss Florida Gators and seven one-loss teams, despite UCF being one of four undefeated teams in the top 25, including the Alabama Crimson Tide (No. 1), the Clemson Tigers (No. 2), and the Notre Dame Fighting Irish (No. 4).
Obviously it takes more than an undefeated record these days.
But that's a point that a majority of UCF fans – most of whom are likely foaming at the mouth today – have a hard time comprehending. UCF's good, yes, but they're not great. So the rankings, for better or worse, make sense.
The oft-argued point for the Knights so far this year is the fact that they have the weakest schedule of any other school within this week's top-25 rankings. Compare that to SEC, which currently has five of the top 11 teams and seven overall in the top quarter.
CFP chairman Rob Mullens put it this way on ESPN: "[The Knights] are 7-0 and that landed them at No. 12. They are the only team in the country that hasn't played a team with a winning record through Week 9 and that was duly noted."
Indeed. But with four games left in the regular season, UCF still has room to prove the doubters, including me, wrong. Or, perhaps more likely, history will repeat itself and UCF will finish out another season undefeated, only to be left out of the CFP's four qualifying spots instead.
Stay on top of Orlando news and views. Sign up for our weekly Headlines newsletter.