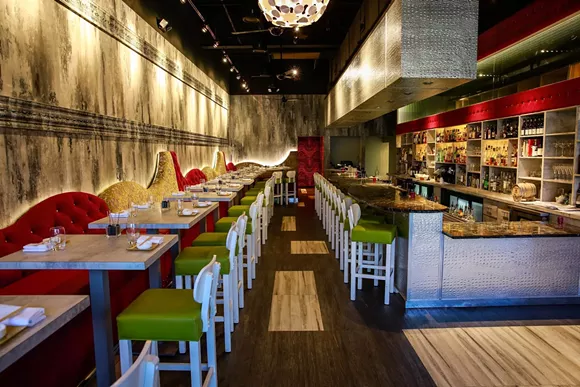 Photo via Sushi Pop/Facebook
Sushi Pop Winter Park
As we told you back in April, Sushi Pop –
the spirited, anime-themed Japanese restaurant
in Oviedo –
will open a second location
on 115 E. Lyman Ave. in Winter Park.
According to chef-owner Chau Trinh, the restaurant should open later this month or in early December.
That's exciting news in and of itself, but what Trinh is positively psyched about is "Chauhaus" — the Vietnamese lunch pop-up he'll stage inside the new restaurant
Wednesdays through Sundays from 11 a.m. to 3 p.m
.
The source for his excitement is the
Kosei Robata Grill
Trinh imported from Japan. The gas-charcoal grill employs infrared heating and, along with the use of binchotan charcoal, yields superbly moist and flavorful grilled meat.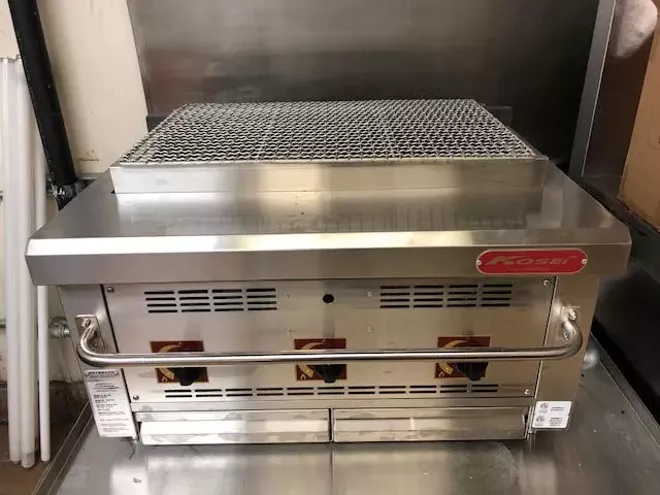 Chau Trinh
Kosei Grill
"I'm super stoked about it," Trinh says. "Every food stall in Vietnam uses charcoal for their meats — it's the reason everything tastes so good. That juicy, thick fat and smoke flavor can't be replaced solely by gas."
Rob Bartlett
Chef Chau Trinh
As far as we know, Sushi Pop will be the only restaurant in the city to employ the Kosei Grill – others use straight binchotan grills without gas.
"It will give us the ability to light the binchotan directly inside the grill, instead of having to light it in a chimney starter," Trinh says. "And since it's gas-assisted, we don't have to rely strictly on binchotan for heat."
Those grilled meats will go atop Chauhaus' broken-rice bowls and rice-noodle bowls, as well as items Trinh will offer when the restaurant converts back to Sushi Pop.
Chau Trinh
Water filtration system
Chauhaus will also offer traditional pho served with raw beef and house meatballs (with bone marrow, short rib, tendon and oxtail available as add-ons), chicken pho and veg pho.
Trinh even installed a special filtration system for the water he'll use for his pho stock.
Wednesdays through Sundays from 3-5 p.m.
, Chauhaus will offer various small plates including cha gio (fried spring rolls) using rice paper, and not the thin egg roll wrappers most other Vietnamese restaurants use; goi cuan (summer rolls); fish sauce chicken wings with toasted peanuts, cilantro and chilies; and poke bowls.
Mondays through Sundays at 5 p.m.
, the restaurant will open as Sushi Pop, offering a somewhat similar menu as the original Oviedo locale, but catered to area's more sophisticated and experienced palates.
Sushi Pop/Chauhaus
115 E. Lyman Ave.
Winter Park, FL 32789
Hours:
Sushi Pop: Sunday, Mon-Thu 5-10 p.m.; Fri-Sat 5-11 p.m.
<!———EndFragment———>Chauhaus (Vietnamese): Wed-Sun 11 a.m.-3 p.m.
Chauhaus (Small Plates): Wed-Sun 3-5 p.m.