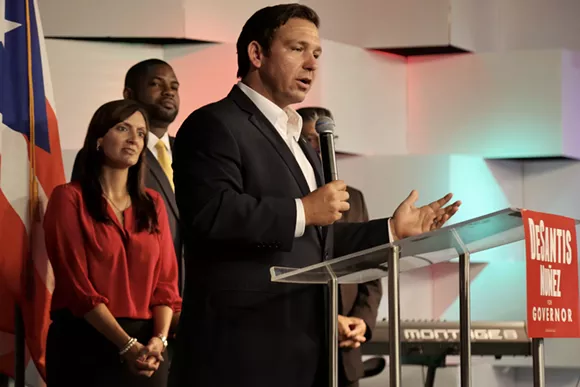 Ron DeSantis has won the 2018 Florida gubernatorial race. His opponent, Democrat Andrew Gillum, conceded the extremely tight race shortly before 11 p.m. Tuesday night.
Florida chose between two candidates that couldn't have been more different.
Even without much of a platform for most of his campaign, DeSantis rode the momentum of a highly coveted President Trump endorsement, which ultimately doomed former GOP frontrunner Adam Putnam. DeSantis' platform seemed to center on a last-minute
shell of a healthcare plan
, courting members of the
alt-right
, opposing gun restrictions, keeping taxes low and, of course, retweeting Trump. The Republican candidate also never disclosed information regarding his
$145,000
in taxpayer-funded trips.
Arguably the most memorable moment from DeSantis' campaign came roughly 10 hours after winning the primary, when he stated that Florida voters shouldn't "
monkey this up
" in November, a racist dog whistle that plagued his campaign from the get-go.
Gillum, while beset by an
FBI investigation
, managed to rally voters and a slew of
celebrity endorsements
with plans to raise minimum pay for teachers to $50,000 a year, expand Medicaid, raise taxes for the wealthy, and support legalization of both medicinal and recreational marijuana. Gillum was a surprise winner in the Florida primary, and the addition of running mate Chris King of Winter Park only seemed to bolster his hold on the I-4 Corridor.
The most memorable moment from Gillum's campaign was during the second and final debate, when the Tallahassee mayor mercilessly
roasted DeSantis
on national television. "I'm not calling Mr. DeSantis a racist. I'm simply saying the racists believe he's a racist," said Gillum, before dropping the old-timey phrase "a hit dog will holler."
No candidate played nice. This race was arguably the ugliest and most contested this state has seen in recent history, and now the hard part of actually governing Florida begins.

Stay on top of Orlando news and views. Sign up for our weekly Headlines newsletter.