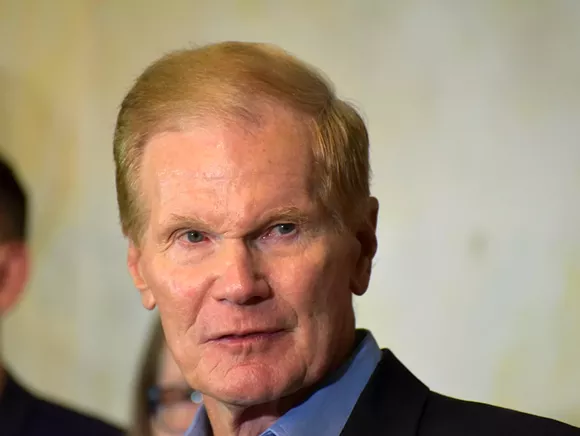 Photo by Monivette Cordeiro
As the ballot difference in the U.S. Senate race between Democratic incumbent Sen. Bill Nelson and Republican Gov. Rick Scott continues to erode, with the term-limited governor now holding a .18 percent lead, Nelson's campaign has filed a lawsuit challenging a state election law.
Only about 15,000 votes separate the candidates.
Wading farther into the midterms muck, the Nelson campaign filed a lawsuit against Florida Secretary of State Ken Detzner, a Republican who was appointed by Scott, over vote-by-mail ballots and the process used to validate them.
The legal challenge takes on a state law that requires county election officials to double-check signatures of voters who cast provisional and mail-in ballots. If the signature on the ballot envelope doesn't match state records, the vote is rejected.

Screengrab via Florida Division of Elections
"This serves as an outright disenfranchisement and burden on the right to vote," Marc Elias, a lawyer with the Nelson campaign, told reporters during a conference call Friday. He noted that the law designates untrained local elections workers the responsibility of reviewing voters' signatures, none of whom are qualified to do so, Elias says.
"This results in a complete lack of uniformity," Elias said. "Voters in one county are subject to [a different] standard for reviewing signatures than others."
Following Elias' call with reporters, the Scott campaign – which filed a lawsuit against Broward and Palm Beach counties over public records he claimed weren't provided to his campaign – shot back, calling today's legal filing by the Nelson campaign "desperate."
"Bill Nelson's entire campaign has been a fraud. Nelson relied on fraud when he attacked Gov. Rick Scott's record, Nelson relied on fraud when he misrepresented his Senate record, and now, he is hoping that voter fraud will help him hang on to power," Jackie Schutz Zeckman, Scott's campaign manager, said in statement. "It's a very sad way to end a career, by desperately clinging to the hope of overruling the will of the voters."
She adds: "They aim to disenfranchise law abiding Florida voters by producing ballots out of thin air until they have enough to win. ... Every vote that was legally and verifiably cast prior to the polls closing at 7 p.m. on Tuesday should of course be counted. Any votes that mysteriously showed up after that deadline are invalid."
Under Florida law, a 0.5 percent margin in an election automatically triggers a machine recount, while a 0.25 percent margin automatically triggers a manual recount, or recount by hand.
Stay on top of Orlando news and views. Sign up for our weekly Headlines newsletter.