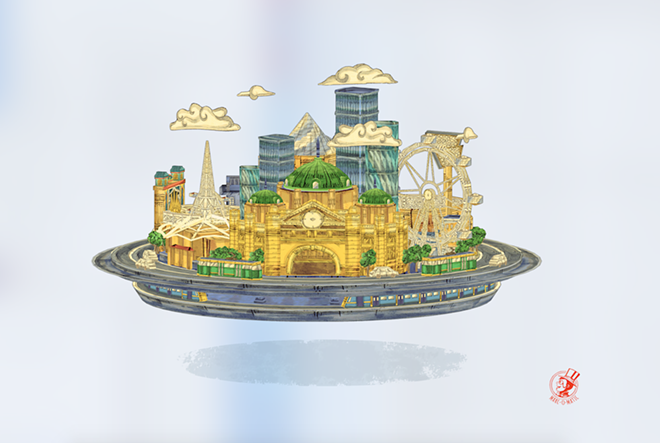 virtual reality work by Mike-O-Matic
You may be feeling heavy-hearted or glum for, oh, no particular reason right now – take your pick of political, ecological or celebrity disasters – and wondering what you can do to raise your spirits without raising your cholesterol level or lowering your bank balance.
To quote Herman Melville, "Whenever I find myself growing grim about the mouth; whenever it is a damp, drizzly November in my soul … and especially whenever my hypos get such an upper hand of me, that it requires a strong moral principle to prevent me from deliberately stepping into the street, and methodically knocking people's hats off; then, I account it high time to …" well, instead of "getting to sea as soon as I can," my personal prescription is to look at some art.
This weekend I'll be opening the
City Unseen
app (which you can
download here
) and taking myself on a little walk around town, hopefully knocking off no hats whatsoever.
We wrote about this show a couple of weeks ago (
read it here
) but the tl;dr is:
City Unseen
offers 10 augmented reality experiences around Orlando, findable and viewable only through the iOS or Android app.
Open the app and you'll see a map of Orlando showing the locations of each art experience. At each location, hold your phone over a
City Unseen
plaque to snap a three-dimensional object onto the screen or add a new layer to the known world. See a skyful of silver clouds over Lake Eola, tour a Miami artist's studio from afar, or transport yourself below sea level – right on the lawn of the Dr. Phillips Center.
Call me Ishmael.
Get our top picks for the best events in Orlando every Thursday morning. Sign up for our weekly Events newsletter.