Photo by Joey Roulette
Onlookers watch rows of poll staffers tackle the first wave of recount ballots inside an Orange County Supervisor of Elections warehouse on Nov. 12 2018.
Let's attempt to navigate the Sunshine State's current political hellscape.
Among the many races with decisive wins on Election Day last Tuesday, some were too close to immediately call, regardless of a candidate's concession or declared victory. State law requires a race to be recounted if the margin of votes between two candidates is less than half a percentage point. That would become the case for six races: one state Senate race, two state House races, and three statewide races.
Florida Secretary of State Ken Detzner declared last week that all six races will be recounted, cementing a much-anticipated extension of an already raucous midterm election season and, arguably, a harrowing repeat of the 2000 recount between Al Gore and George Bush.
The clock for every county in Florida to start machine recounts in the Governor, U.S. Senate and Agriculture Commissioner races started Monday morning, and elections supervisors must submit all unofficial results by 3 p.m. Thursday, according to state orders.
After Thursday, if the margin for any of those races still sits below a quarter of a percentage point, as is the case in the U.S. Senate and Agriculture Commissioner races, then the state will advance to a hand, or manual, recount.
In the U.S. Senate race, Rick Scott leads Democratic incumbent Bill Nelson by 0.15 percent, or 12,562 votes. Nikki Fried leads her Republican opponent Matt Caldwell in the Florida Agriculture Commissioner race by 0.06 percent, or 5,326 votes.
If those slim margins persist after the machine recount, the race will proceed to a manual recount, where election staff will look for overvotes – when someone mistakenly votes for both candidates – and undervotes, which occur when voters leave some races on a ballot blank and others bubbled.
Photo by Joey Roulette
Angsty members of the public watch as election staffers finish up manual recounts in the County Commissioner District 4 race on Nov. 12, the first of four days for state-mandated recounts.
Voters may have intended to bubble in just one candidate instead of both – as machines sometimes erroneously sense – which is why the human element of a hand recount comes into play: to determine the voter's intent.
The race for U.S. Senate and Florida Agriculture Commissioner will most likely head to hand recounts after Thursday. On the contrary, the governor's race between Andrew Gillum and Ron DeSantis will likely come to an end after the machine recounts: the margin between the two candidates sits at 0.41 percent, or 33,684 votes.
Manual recounts, if required, will begin on Nov. 16, right after machine recounts end. Counties will have a little more than three days to complete it by Nov. 18 at noon.
Orange County started statewide machine recounts at noon yesterday, and Supervisor of Elections Bill Cowles is confident they'll finish before Thursday's deadline.
Cowles told the
Orlando
Weekly
that dozens of elections staffers were scrambling to finish a local machine and hand recount for the County Commissioner District 4 race between Maribel Gómez Cordero and Susan Makowski, which has a razor-thin margin of 181 votes, before Monday night in order to focus on the statewide recounts through Thursday.
"We're trying to push out County Commission District 4, get it off the table, so that way we can concentrate solely on the statewide races," Cowles said.
Makowski conceded one hour before the final manual recount finished, Cowles said.
Even as more temporary elections staffers are working overtime, some elections supervisors have said they won't be able to meet Thursday's deadline.
Palm Beach Supervisor of Elections Susan Bucher
told
the
Palm Beach Post
that the four-day recount period is "impossible" for her office to meet. The
Miami Herald
reported
that Broward County, starting recounts for statewide races on Tuesday, most likely won't be able to meet the deadline either.
"I will tell you that the secretary and the Legislature and the governor have been extremely aware that with the election equipment we have, the potential of conducting all of these is impossible," Bucher was quoted as saying.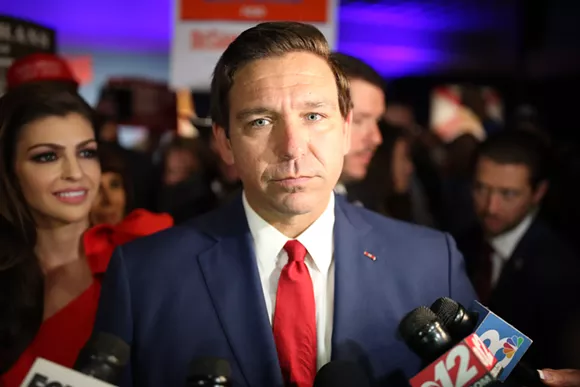 Photo by Joey Roulette
Republican gubernatorial nominee Ron DeSantis speaks with reporters at his Election Day rally after declaring victory over his democratic opponent Andrew Gillum.

How we all got here

In a poll-defying comeback of 2016 Trumpism, Tallahassee Mayor Andrew Gillum conceded defeat on election night as votes hovered around a
1 percent lead for the Trump-endorsed Republican nominee Ron DeSantis.
And, after pumping more than $50 million of personal cash into his campaign, the out-termed Republican Florida Gov. Rick Scott boasted a similar 1 percent win in the U.S. Senate race over Bill Nelson, the three-term incumbent.
In the same fashion, Matt Caldwell appeared to have defeated his Democratic contender Nikki Fried in the race for Florida Agriculture Commissioner.
But those margins shrank to recount-triggering depths as counties around the state continued to count mail-in, early vote, provisional and overseas military ballots after election night. All 67 counties in Florida had four days, or the following Saturday, to finish counting votes.
The results of Saturday's final count precipitated the recounts: Nikki Fried sailed past Caldwell
after
Election Day, and now leads by 5,326 votes – a 0.06 percent lead, which is why the Agriculture Commissioner race went to a recount.
Last week was election week, this week is recount week, and next week, for some races, will probably be manual-recount week.
Scott's and DeSantis' 1 percent leads over their Democratic rivals both sank well below half a percentage point. Scott leads Nelson by just 0.15 percent, or 12,562 votes, and DeSantis leads by 0.41 percent, or 33,684 votes.
In other words, Gillum and Nelson gained tens of thousands of votes after Election Day because some counties, mainly predominantly Democratic strongholds Broward and Palm Beach, weren't done tallying ballots. Recounts, at this point, were imminent.
An enraged Scott – armed with lawyers, Republican allies and
Matt Gaetz
– jumped on the warpath to discredit legally cast votes as soon as the thinning margin between him and Nelson started pulling the victory he claimed Tuesday night further out of his reach.
And for Republicans nationwide, the stakes for claiming Florida's U.S. Senate seat skyrocketed when Arizona's Democratic Senate candidate Kyrsten Sinema defeated her GOP opponent Martha McSally, shooting down another prospect for a party that already lost the House on election night.
Scott held a press conference on the steps of Florida's capitol last Wednesday night – questionably abusing his governor pulpit as a candidate, according to critics – to accuse Broward County's Supervisor of Elections Brenda Snipes of election fraud, insinuating a pervasive conspiracy theory that alleges she, in cahoots with Democrats, somehow created more ballots to tilt the election in Nelson's favor.
His fraud claims were false and unfounded. The Florida Department of Law Enforcement, which Scott himself urged to investigate Broward's elections office, found no evidence of criminal activity. Scott did, however, file and win a public records lawsuit against Snipes for not releasing timely records on the number of ballots her office had left to count.
Nelson's team, led by seasoned election law attorney Mark Elias, filed a few lawsuits of their own last week. One of them challenges the permissive state law that allows elections staffers to decide whether a signature on a mail-in ballot matches the signature on file.
"These signature matching laws are disenfranchising voters," Elias said Monday during a conference call with reporters, adding that inexperienced staffers have sway to accept or reject ballots based arbitrarily on the appearance of signatures.
In short, the few votes that trickled to seemingly benefit Democrats unleashed a virulent Republican effort to undermine Florida's elections process, using Broward County — an indubitably sketchy county for elections — as an outlet for baseless fraud allegations.
In three days, President Trump sent at least three tweets promoting Scott's fraud conspiracies, InfoWars contributors Jacob Engels and Laura Loomer incited massive ongoing protests outside Broward County's Supervisor of Elections office, and groups, PACs, and advocacy organizations from both parties spawned myriad lawsuits against one another.
Stay on top of Orlando news and views. Sign up for our weekly Headlines newsletter.