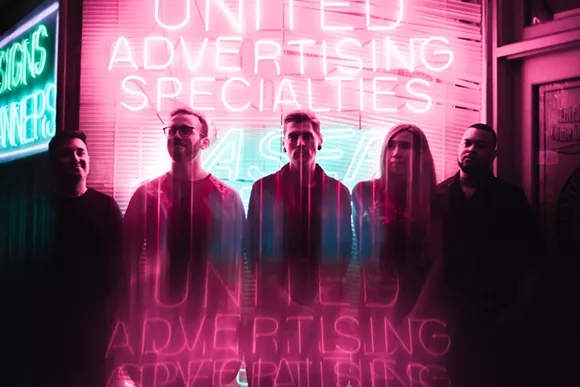 Welcome to
Orlando Weekly
's "
Band of the Week
." Every week, we highlight one of our favorite local bands. This week, we're pleased to bring you
Linqo
.
Linqo is playing Will's Pub on Nov. 21.

Just the facts:

When did the band form?

It started as the solo project of singer/songwriter Marco Miller in April 2016 and over the next year friends have jumped aboard one by one contributing they're own uniqueness.
Who's in the band?

Marco Miller - Vocals/Guitars
Tommy Re - Guitars
Josh Petit - Percussion/Vocals
Ellie Kim - Keys/Vocals
Currently available releases:

Self-titled EP and Nomadic EP
Websites:

LinqoMusic.com

Facebook

Instagram
Describe your sound in five words:

Dark/Bright/Colorful/Structured/Ambient
Five questions:

What has been your most memorable show so far?

Oh man, there are so many! If we had to pick, playing with our friends Beneath the Bell at Standard Collective in Melbourne. It was a benefit show for a friend who passed, and was such a great line-up with great people in an awesome little space.
Which local band is your favorite one to play a show with?

Beneath the Bell (formerly "Fighting the Silence"). They always give 110% and have such a big operatic sound that's more of an experience than a local band show.
What description gets used for your band that you would most like to correct people on? Why?

We actually like when people make up their own description, It's up for interpretation and it's fun for us to see the words people use. We forget who, but someone called us "cosmic alt-rock." We got a kick out of that.
What's your favorite thing about being an Orlando band? What's your least favorite? Why?

Like most of us, we genuinely love living here, the awesome venues and for the most part the Orlando music scene is a pretty tight-knit community. We look out for each other and help one another grow. Least favorite is parking downtown.
Any big news to share?

We have a lot of big shows coming up and we are getting ready to record our full length album in 2019!