Photo via Central Florida Post/Facebook
Jacob Engels, publisher of local far right blog the
Central Florida Post
and member of the extremist group the "Proud Boys," is considering running for Chairman of the
Orange County Republican Executive Committee
.
Engels, who's a regular InfoWars contributor and an associate of former Trump advisor Roger Stone, made the announcement through the
Central Florida Post
Facebook account yesterday, saying the party needs to get rid of "globalist hangers-on of the old-guard" and that he'll make his official decision on Dec. 1.
"In the past 24 hours, many people have urged me to launch a campaign for a high level leadership position within the Orange County Republican Executive Committee," said Engels in the Facebook post. "We need a cleansing of our ranks to rid the party of globalist hangers-on of the old-guard and I am considering my next steps. I will reach a final decision by December 1st."
In another post, which ironically says "Fxxx Political Correctness," and "Engels for GOP chair," he lists a few other ideas, like "Expel globalists from the ranks," "Crush #NeverTrump insurrections," and "Rebrand & focus efforts through digital / alternative outreach."
The Orange County Republican Executive Committee will host their next meeting
Thursday, Dec. 6
, where they'll hold elections for Chairman, Vice Chairman, Secretary, Treasurer, Executive Director, Assistant Secretary and Assistant Treasurer. The current OCREC Chairman is Charles Hart.
Engels' personal account was
removed by Facebook
last month, when the company removed every "Proud Boy" account for violating its rules regarding hate speech.
The "Proud Boys," a self-described "Western Chauvinist" group founded by Vice News co-founder Gavin McInnes, were recently designated by the FBI as "an extremist group with ties to white nationalism," as recently revealed in a
document
from the Clark County sheriff's office in Washington state.
Known for wearing black-and-yellow polo shirts and only masturbating once a month (
seriously
), the "Proud Boys" were part of the Charlottesville "Unite the Right" rally, and were also involved in the violent attacks in New York City last October, after McInnes gave a speech at the Metropolitan Republican Club.
As a self-described Islamophobe, McInnes has a well-documented history of incredibly ignorant statements, like when he told a
New York Press
reporter that he lived in the progressive-leaning Williamsburg neighborhood because, "Well, at least they're not niggers or Puerto Ricans. At least they're white."
Following the new "extremist" classification of the "Proud Boys" from the FBI and the incident in NYC, McInnes has since publicly distanced himself from the group, though the actual extent of his removal is unknown.
The Southern Poverty Law Center classifies the "Proud Boys" as a "hate group," though the group says they're not, and Engels himself has been featured on SPLC's "
Hate Watch
" for what he says was "standing against forced female genital mutilation and attacks on women/LGBT from Radical Islam."
In a previous
Orlando Weekly
story, Engels denied being a full member of the "Proud Boys," arguing that he simply goes to the meetings and protests alongside the members. "[I] have many friends in the organization and have spent time at meet-ups, trying to investigate these accusations of racism, homophobia. As a gay man, I've encountered nothing but an atmosphere of welcoming and intense love for America," said Engels.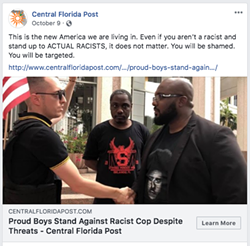 Jacob Engels wearing the Proud Boys shirt alongside a headline from his publication about the local Proud Boys
However, Engels seems to now embrace the label after multiple
national news outlets
reported on his affiliation with the group during a removal from an Andrew Gillum
rally
.
He also has appeared as a representative of the the "Proud Boys" in his own stories and tweets.

We reached out to OCREC for comment, and will update this story if we hear back
.
We did not reach out to Engels for this story because he lies every single time we attempt to have a correspondence with him.

Update: According to the Oregonian, the FBI had not intended to designate the Proud Boys as extremist.

Stay on top of Orlando news and views. Sign up for our weekly Headlines newsletter.