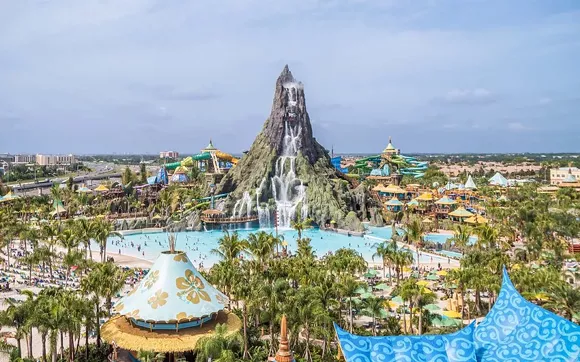 For the last quarter-century, the Themed Entertainment Association has hosted the annual TEA Thea Awards, a prestigious who's-who in the themed attraction industry. This year's recipients were
recently announced
and, like always, there are plenty of award winners this year with Orlando connections.
To be honored with a TEA Thea Award, attractions creators must show credit for published work. Before the TEA Thea Awards began in 1994, it was uncommon for individuals within the industry to receive personal recognition. On top of individual awards, the TEA Thea Awards also include the Awards for Outstanding Achievement (AOA) that celebrate specific achievements within the industry.
What the Best Actor Oscar is to the film industry, the Buzz Price Thea Award is to the attractions industry. Named after the same famed Imagineer whose personal work collection is now archived at the UCF Rosen school, it's viewed as one of the highest honors in all of themed entertainment. This year's recipient is Universal Parks and Resorts' Vice Chairman Mark Woodbury. In the
press release
announcing Woodbury's win, the Thea Awards Committee noted how he has helped usher in a new global standard in themed entertainment. "Mark Woodbury's leadership, along with a highly motivated and talented team, pushed technology and storytelling and the Universal brand to an all-new industry standard, translating pop culture's visual and literary mediums into today's most compelling and immersive experiences."
The Thea Classic Award, which celebrates an achievement that has proven to remain relevant over the years, was given this year to
Dollywood
in Pigeon Forge, Tennessee.
Claiming more than a third of this year's Awards for Outstanding Achievements, Asia had a strong presence on this year's list. The new
Nemo themed motion simulator
ride at Tokyo DisneySea was recognized in the category of repurposed attractions. It has been rumored to be heading to Epcot, though this seems unlikely as the attraction repurposed a pre-existing ride at Tokyo DisneySea.
Universal Spectacle Night Parade
– The Best of Hollywood. In the press release announcing the winners, the TEA committee points to the parade's use of a unique control system that synchronizes projection mapping systems, float tracking, and choreographed live performers. A similar nighttime parade has been strongly
rumored for Universal
Orlando, though with a new nighttime show debuting just a few months ago, a second nighttime offering for Universal Studios Florida seems unlikely anytime soon. One possibility includes the new nighttime parade as part of the entertainment offerings in the yet-to-be-announced theme park Universal is currently developing on their south campus.
Stateside, Universal also won with
Volcano Bay
(AOA – Water Theme Park). In a press release that recognizes the new attraction as a "water theme park" the Thea Award Committee noted that the "entire park beckons with the promise of escape, relaxation and adventure and lives up to the belief that 'Water Is Life and Life Is Joy.' Volcano Bay raises the bar for waterparks in general, with a highly themed environment and a fun, festive and relaxing atmosphere."
Photo courtesy of Walt Disney
Starbright Holidays
Many in Central Florida will be familiar with another award winner: The Intel
Shooting Star Drone System
won the AOA for Outstanding Technical Innovation. Used as part of the holiday offerings at
Disney Springs in 2016
, Intel has since expanded the fleet and used the drones at a number of events, most notably as part of the 2018 Winter Olympic Opening Ceremony. It was this record-breaking use of the drones that helped it win the TEA Thea Award. Drones, probably from Intel, are highly rumored to be an important part of the new Illuminations replacement show heading to Epcot in 2020. Numerous patents and flight clearance approvals by Disney show that they are seriously looking at drone technology beyond the 2016 use of it.
Princess
was the only cruise line to win a Thea Award this year. The Fantastic Journey show on the Majestic Princess won an AOA for Live Show Spectacular: Limited Budget (less than $5 million). The technologically stunning show was explicitly designed for the Chinese market, one of the fastest-growing segments in the cruise industry.
Also in China,
Fantawild Oriental Heritage
park was recognized for its "special mix of traditional Chinese culture and technology-driven attractions." While Fantawild isn't a household name in the U.S., in China the company operates 22 different theme parks and has become a leader in unique themed rides. Using their own in-house design, animation, and special effects departments, Fantawild is known for cutting-edge attractions with unique Chinese backstories.
Chimelong Water Park
in Guangzhou, China won an AOA in the Attraction category for their SlideWheel. This wild, spinning water slide was the talk of last year's International Attractions Expo in Orlando. Designed by Germany-based
wiegand
.maelzer
GmbH, the Ferris Wheel-like SlideWheel is manufactured by Canadian water slide builder WhiteWater.
Similar to the Chimelong Water Park, WhiteWater is the primary slide manufacturer for the new
Margaritaville water park
, Island H2O Live, in Kissimmee. For now, no SlideWheel has been announced for the new Kissimmee park but like Guangzhou's Chimelong Water Park, Island H2O Live may possibly add one in the coming years to bring back guests. It's not uncommon for water parks to add new rides more frequently than traditional theme parks. The SlideWheel would surely be a headline-grabbing, traffic-stopping addition to the 192 water park.
Six Flags won an AOA for their
Justice League: Battle for Metropolis
interactive dark ride. The ride has been replicated across the Six Flags chain since 2015 but was added to their Magic Mountain park this year, allowing for it to be included in this year's awards. Designed by Jacksonville-based Sally Corp, Battle for Metropolis with its animatronics, custom 3D videos, and custom designed ride vehicles is viewed as one of the best interactive dark rides ever to be built at a regional park. Battle for Metropolis may be a good indicator of the type of interactive rides planned for the its future parks; including long-shot rumored parks in Florida.
Evel Knievel Museum
in Topeka (AOA – Museum, Limited Budget), the
teamLab Borderless exhibit
in Japan's MORI Building Digital Art Museum (Connected Immersion – Digital Art), George Washington's Mount Vernon
Be Washington display
(Museum Experience, Limited Budget), the
Bazyliszek
interactive dark-ride at Poland's Park Legendia (Attraction, Limited Budget), Toronto's Banff National Park's new nighttime art exhibit
Illuminations: human/nature
(Connected Immersion – Digital Overlay Experience, Limited Budget), the
Legend of the Camel Bells
show at the Huaxia Cultural Tourism Resort, Xi'an, Shanxi Province, China (Live Show Spectacular), and the
LEGO House
visitor's center in Denmark (Brand Center). Michel Linet-Frion, Creative & Innovation Director,
Pierre & Vacances Développement
, was also recognized for his leadership and vision for the Association.
Unlike most award programs, the TEA Thea Awards are announced months ahead of the actual award ceremony. The Themed Entertainment Association
explains
the reasoning behind removing the surprises from the awards ceremony; "There are no surprise announcements, no secret names in envelopes, no division of attendees into winners and losers at the Thea Awards. Everyone walks in a winner and leaves as a winner. This Thea tradition brings our industry together for a completely positive evening."
This year's TEA Summit and Thea Awards Gala will take place April 11-13, 2019, at Disneyland Resort in Anaheim.
Tickets go on sale
in December.
Stay on top of Orlando news and views. Sign up for our weekly Headlines newsletter.