Maitland's Mediterranean Street Food by Shishco recently got a makeover.
The parking lot diner, located in the Village Plaza off Orlando Avenue, added two new colorful murals to the building's outside, along with a few painted picnic tables.
Owner Julio Bermudez said he worked on the project, which is still in progress, with longtime friend and second grade teacher, Brandi Hart. "I figure what better way to do it than to have it done by someone locally," Bermudez said. Hart did all of the sketch and design for both murals and together they spray painted them.
Bermudez and Hart are still working on the rest of the murals and more will be added constantly.
It took around one week to get the plans approved by both the city of Maitland and the plaza and two days to finish the first mural, said Bermudez. The finished mural features a woman's silhouette surrounded by planets, the second mural's outline and the picnic tables.
According to Bermudez the idea came from wanting to do something different and unique for his restaurant, which has been in the same location for four years. "What better way to stand out than with a building of completely different designs," he said.
Mediterranean Street Food offers made-from-scratch authentic Mediterranean cuisine. The menu includes items such as gyros, kebabs and rice bowls.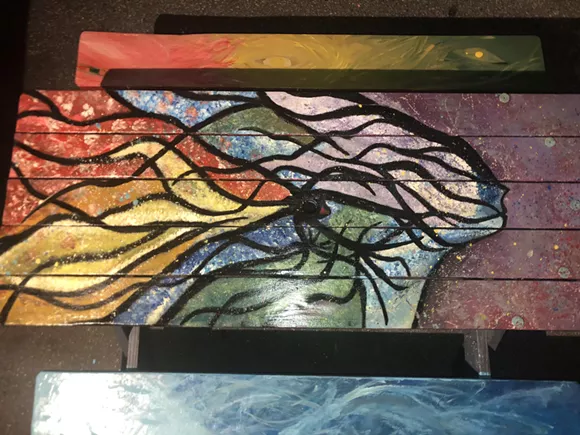 So many restaurants, so little time. Find out the latest dining news every Friday morning with our weekly Food + Drink newsletter.