Image via Swan and Dolphin | Tishman
In September, after months of speculation,
Marriott confirmed
that it was planning a third resort hotel at Walt Disney World next to its Swan and Dolphin hotels.
At the time, little was known about the new 14-story hotel tower. However, it was clear that the new project would focus on business travelers, with meeting spaces and business suites. Nearly half of the 343 rooms in the hotel will be business suites that can transform from a traditional hotel room into a more professional meeting space with large conference tables, built-in AV systems, and other meeting-focused amenities.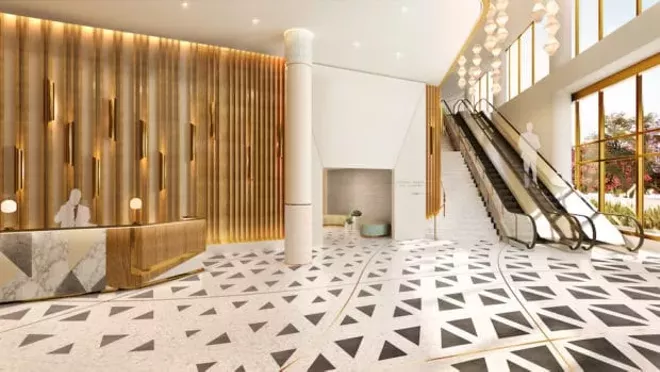 Image via Swan and Dolphin | Tishman
The Cove's main lobby
In recent days as a groundbreaking for the new hotel took place, a plethora of new details have been released. Known as "The Cove," the hotel will replace the current tennis courts with a contemporary, glass-clad tower featuring more than 22,000 square feet of meeting space, including two ballrooms, a rooftop reception space, and 12 meeting rooms.
The rooftop reception space was specifically designed for views of the nightly WDW fireworks.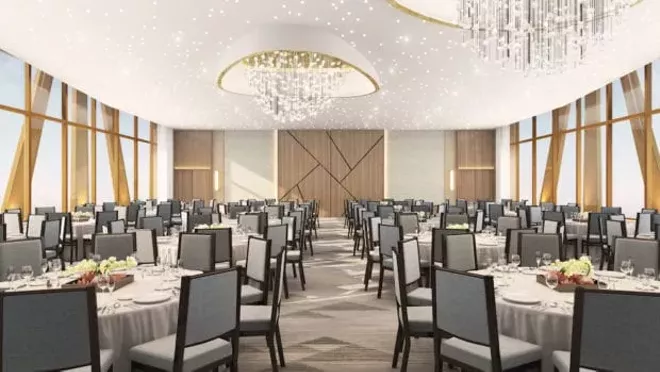 Image via Swan and Dolphin | Tishman
One of the rooftop ballrooms found in WDW's The Cove
A 90-seat restaurant with an additional 50-seat lounge, a second lobby bar with craft cocktails, and a grab-and-go market will offer guests plenty of dining options. The Swan and Dolphin, coming off a more than $150 million upgrade across the two hotels, have numerous other dining options, all within walking distance of the new tower. Disney's Boardwalk, Yacht and Beach Club, Epcot, and Hollywood Studios are also all within an easy walk of The Cove.
Image via Swan and Dolphin | Tishman
A lushly landscaped elevated 16,800 square foot
pool
deck has a fire pit, multiple seating options, and fountains. Other amenities at the modern looking resort include a health club and business center.
When finished The Cove will bring the Swan and Dolphin Resort (which includes The Cove hotel) to over 2,600 rooms and 350,000 sq.-ft. of meeting space. This makes the three tower resort the third largest hotel at Walt Disney World.
Two other hotel towers, both owned and operated by Disney, are also under construction at WDW. Another hotel,
Reflections – A Disney Lakeside Lodge
, was also recently announced. All but Reflections should open ahead of WDW's 50 Anniversary in late 2021. Reflections will open in 2022.
The Cove is slated to open on March 1, 2021. Information on group reservations is now available. Those interested can call (407) 934-4290 for more information.
Image via Tishman
A previous version of the concept art for the upcoming The Cove hotel tower.
Stay on top of Orlando news and views. Sign up for our weekly Headlines newsletter.