In the nearly eight years I've been teaching citizenship and English language classes within the Orange County Public Library system, I've helped thousands of people become citizens of our great nation. It's amazing to see what happens when they pass the exam; several students have increased their earning potential and a handful now work for the Department of Homeland Security and TSA at Orlando International Airport. One former student from Mexico fulfilled a lifelong dream of becoming a flight attendant. For all of them, reciting the naturalization oath is a defining moment, not just in their lives, but the lives of their children and future generations of their families.
Our commitment to providing vital community resources is one reason we were awarded the 2018 National Medal for Museum and Library Service, the nation's highest museum and library honor. I have no doubt that our language and citizenship classes, aimed at integrating our city's sizable foreign-born population, played a role in the decision.
This project of welcoming and integrating our foreign-born residents has been a city-wide effort. It's why Orlando earned some top scores in
New American Economy's Cities Index
, a new tool measuring how effectively 100 of the largest U.S. cities are helping immigrants acclimate and succeed. We received a perfect score in "Government Leadership," which considers municipal initiatives that support immigrants, and a near perfect score in "Livability," which looks at factors like educational attainment.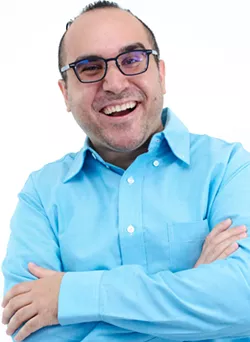 When my family moved to the region 30 years ago, people weren't always so welcoming. I'm the son of Austrian and Persian immigrants, and I grew up two hours away in Spring Hill. Both of my parents speak multiple languages and one year, my dad decided to teach me German. Today, teachers would likely reward learning such a skill, especially since the demand for bilingual workers has more than doubled in the last five years. But back then, my elementary school teacher didn't encourage me — she confronted my father and asked him to stop our lessons. Her message was clear: In America, we speak English.
Today, things are changing for the better. Take our local leadership. Orlando's City Council recently voted to stop police from asking law-abiding people about their immigration status. The city also offers fiscal support for the programming we offer at the library — money that benefits immigrants and U.S.-born citizens alike. These and other initiatives empower our foreign-born residents to fill jobs in our key local industries like construction and tourism jobs — an industry our city's economy depends on — at Walt Disney World, Universal Studios, and the surrounding hotels, restaurants and various other attractions that make Orlando a world-class destination. Which then enables them to pay more in taxes ($2.7 billion in 2016) and hold more in spending power ($9 billion to invest back in the community at last count). Without them, the businesses and restaurants owned by Orlando's more than 32,500 immigrant entrepreneurs wouldn't exist. So in the end, helping these newcomers is what makes our city a more prosperous and interesting place to live for all of us.
Still, there is room for improvement. We scored a three out of five in "community," which accounts for programs and services like those we provide at the library. Our work is a good start, but more local organizations could help immigrants access the resources and information and facilitate dialogue between our foreign-born and U.S.-born residents. Increasing access to information and networking could also help improve Orlando's "job opportunities" score — where we scored just one out of five.
To me it's simple: Helping immigrants adapt to life in the United States is the only way to ensure that they can make the most of their considerable talents, and that they want to stay here in Orlando. The Cities Index proves that we recognize the potential of these newcomers and see their value. It's one of the many reasons I'm proud to call Orlando home.
Reshard Ausserlechner is a reference librarian with the Orange County Library System.