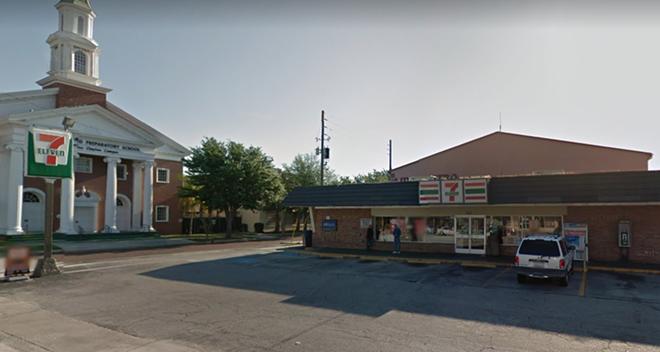 Next week, the Mills 50 neighborhood will lose an icon.
On Thursday, Dec. 13, the 7-Eleven located at 723 N. Mills Ave. will close for good, employees told
Orlando Weekly.
No exact reason was given for the closure other than the property has been sold to a new owner, and it's also unclear what will replace it (please don't be another bank).
The employees will be relocated to other stores.
As for the other Mills 50 7-Eleven, at the corner of Virginia and Mills, this location will remain open. Oh, thank heaven.
However, store number 10033 was a favorite for many locals for decades. Besides a convenient spot to grab a snack while waiting for your laundry next door, this particular location was also home to Orlando staple Juan Jones, who once told the
Weekly
in a
profile
from 2015 that he's seen it all at this location.
Photo by Marissa Mahoney
Juan Jones
"I had this guy in the bathroom masturbating. I was walking by, and I had to clean the other restroom, and I heard someone panting and moaning, and I thought someone was in the bathroom. I happened to knock on the bathroom, and they said, 'Excuse me, excuse me, excuse me, I'm cumming!' And I was like, 'oh my God!' ... I just said 'OK, um, I can't believe this.' Somebody actually came inside a 7-Eleven restroom to go and bust a nut."
"What have I not witnessed?" he says with a smile. "Nothing!"
Travel well, 7-Eleven. You will be missed.
Stay on top of Orlando news and views. Sign up for our weekly Headlines newsletter.