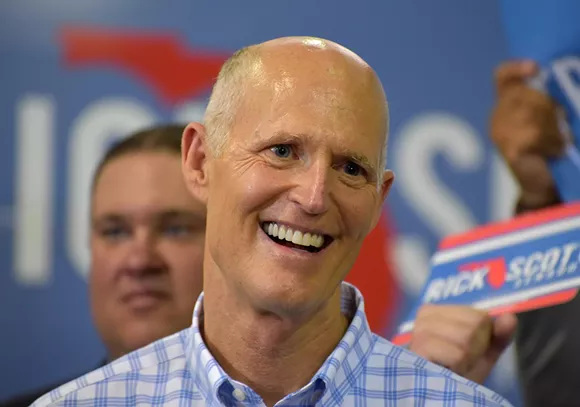 Photo by Monivette Cordeiro
Florida Sen. Rick Scott, a man who has declared at least
26 states of emergency
as governor, is now urging Donald Trump to use his executive powers to fulfill what ultimately boils down to a harebrained campaign promise.
The junior Senator took to Twitter Thursday afternoon to urge the president to declare a national emergency to strong-arm the nation into giving him his border security funding, something that we all knew Mexico was never going to pay for.
"@realDonaldTrump has tried to work with Cong. If the Dems continue to refuse to work with him, he needs to use his emergency powers to fund border security & include a permanent solution for DACA & TPS," tweeted Scott.
Perhaps Scott understands that negotiating with Trump is nearly impossible for Democrats, since the president seems to change his mind every 30 seconds on things as absurd as "the wall needs to be built now" and "
the wall is already being built
" and whether it's "a barrier, steel slats,
or a wall
."
Either way, the putative writer of
The Art of the Deal
is
getting his ass handed to him
on a daily basis by Nancy Pelosi, so it shouldn't be a surprise if Trump does something as drastic and ridiculous as declare a state of emergency over what experts are saying is a
"nonexistent border crisis."
What's remarkable about this whole thing is that data from within the Trump administration already proves that there's literally no crisis at the border. In December 2017, the Department of Homeland Security released a report declaring that illegal entry in the United States had reached historically low levels.
Plus, earlier this month, Nicholas Rasmussen, a former top counterterrorism official under both President Barack Obama and Donald Trump, ripped the current administration for playing politics with this issue. "There is no wave of terrorist operatives waiting to cross overland into the United States. It simply isn't true," said Rasmussen to
Just Security
. "Anyone in authority using this argument to bolster support for building the wall or any other physical barrier along the southern border is most likely guilty of fear mongering and willfully misleading the American people."
This is all familiar territory for Rick Scott. After all, declaring emergencies for political clout is sort of his thing. After years of gutting the Florida agencies involve with monitoring the health of our waterways, in 2018 (an election year) Scott finally decided it was finally the best time to declare a state of emergency over Florida's toxic algae crisis, after years of doing absolutely nothing about it.
Scott also tried to declare a state of emergency following
Pulse
, which Obama rejected and FEMA administrator W. Craig Fugate wrote in a letter that the then governor's request "did not demonstrate how the emergency response associated with this situation is beyond the capability of the state and affected local government or identify any direct federal assistance needed to save lives or protect property."
Also, most importantly, FEMA doesn't respond to terrorist attacks, especially ones were the situation is considered over. FEMA has actually denied Scott 6 out of 10 requests for a state emergencies between 2011 and 2016, reports Politico.
But shoveling bullshit is nothing new for Scott. Just last election he was
falsely claiming there was voter fraud
in Broward County, and it's also interesting that he's now suddenly on board with a Dreamers solution. Remember that time
in 2010
when Scott said "I'm against the Dream Act. Why? I don't believe in amnesty"?
People don't forget, Rick.
Stay on top of Orlando news and views. Sign up for our weekly Headlines newsletter.