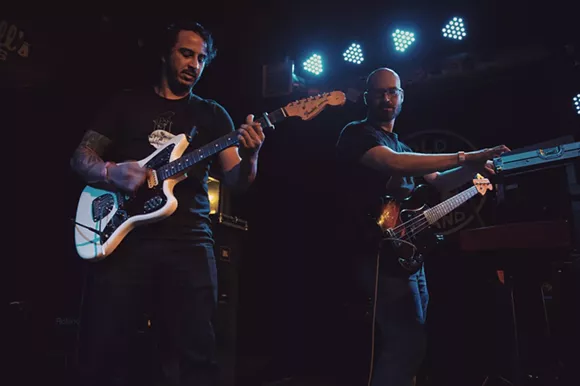 Welcome to
Orlando Weekly
's "
Band of the Week
." Every week, we highlight one of our favorite local bands. This week, we're pleased to bring you
Tape Studies
.
Tape Studies is playing Feb. 4 at Will's Pub with Acoqui and Brother Cephus.

Just the facts:

When did the band form?

Tape Studies began spring/summer of 2018. It rained often.
Who's in the band?

The band consists of Trent Shaw on drums, Shawn Milton on bass, cello, and keyboard, and Pierre Medina on guitar and keyboard.
Currently available releases:

We currently have demos available on CD and digital download. You can find them on our Bandcamp.
Website:
https://tangerinebuffalo.com/tape-studies
Describe your sound in five words:

Adventurous, cinematic, moving, atmospheric, dynamic.
Five questions:

What has been your most memorable show so far?

Since we only have one show under our belt, it would have to be that one. We played Will's Pub in December and the response was incredible.
Which local band is your favorite one to play a show with?

We shared the stage with so much talent last December that it's hard to pick! Orlando has some hidden gems.
What description gets used for your band that you would most
like to correct people on? Why?

We're often likened to Explosions in the Sky because we make instrumental rock music. But hey, there are certainly worse bands to be compared to so maybe we'll let this one slide.
What's your favorite thing about being an Orlando band? What's your least favorite? Why?

Our favorite thing is being able to contribute to the scene. The musicians in Orlando are hungry to make an impact and Tape Studies feels lucky to be welcomed. Our least favorite thing is seeing Orlando's creative talent move elsewhere due to lack of opportunities.
Any big news to share?

We'll have T-shirts and CDs available at our next show at Will's Pub on February 4th! Other than that, we're always working on new music so be on the lookout.