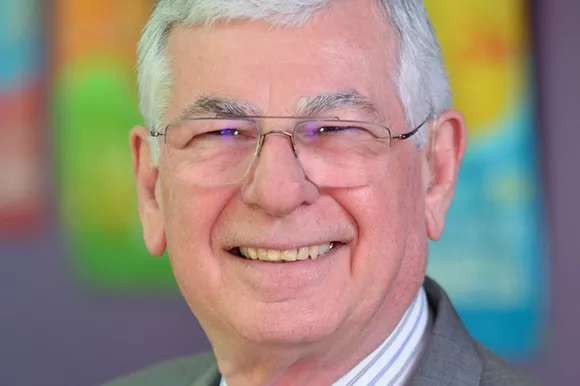 Photo via Orlando Rep
Orlando Rep executive director Gene Columbus has announced his retirement effective this summer.
Gene Columbus, the genial executive director of the Orlando Repertory Theatre (or
Orlando Rep
to its friends) just announced his retirement after 11 years in the role, leaving a big job opening at Orlando's largest professional youth theater.
Columbus, who went from playing Cinderella's Prince to managing Magic Kingdom entertainment during his
nearly four-decade Disney career
, joined the Rep in 2008. He will step down in summer 2019, and the organization is searching for his replacement.
"After 11 years serving children and families at Orlando Repertory Theatre, the time has come for me to announce that this summer, I will be stepping down from my role and beginning my second retirement," said Columbus in a statement to the media.
"In February 2008, I retired (for the first time!) from a wonderful 38-year career with the Walt Disney World Company to join the team at Orlando Repertory Theatre," Columbus continued. "I promised to stay with Orlando Rep for a minimum of five years – but I fell in love with the place and stayed another six years. My time at Orlando Rep has been the most rewarding in my career. I have worked with many remarkably passionate and talented people, all of whom loved helping children see how they could fit into the world – using theatre to show them the way. We have touched so many families in our time, and I burst with pride thinking of the positive impact our team has made."
"Gene has been an instrumental part of Orlando Rep for the past 11 years, and although we knew this time would eventually come, we are so thankful for Gene and the tremendous accomplishments he has made to Orlando Rep," says board chairman Kirtus Bocox. "Gene helped build a firm foundation and a wonderful workplace culture at the Orlando Rep, and we are excited to carry that momentum forward."
"I have absolutely adored the time that I got to have with Gene Columbus as our executive director," remarks Jeff Revels, artistic director. "We have grown tremendously during his tenure, and he has been a perfect partner as we have dreamed – and continue to dream – about the incredible work we want to accomplish. We are but stewards of this theatre dating back to 1926. Gene has left his indelible mark on this institutional legacy."
Applications are now open for the Orlando Rep's next executive director. Interested candidates can visit
orlandorep.com/get-involved/careers/
to toss their hat in the ring.