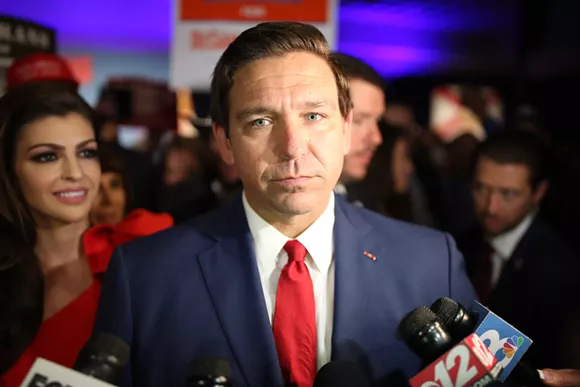 Photo by Joey Roulette
Republican gubernatorial nominee Ron DeSantis speaks with reporters at his Election Day rally after declaring victory over his democratic opponent Andrew Gillum.
On Thursday, Republican Gov. Ron DeSantis announced his teacher pay proposal plan that includes a $422 million compensation increase and a "bad actor" list for failed charter schools.
"I'm proud to announce a renewed investment to recruit and retain the best, most dedicated educators for Florida schools," DeSantis said on
Twitter
.
DeSantis' proposals include:
More than $422 million for compensation increases.

A bonus plan that rewards the most "effective" teachers with bonuses of $9,000 or more in schools that improved by at least 1 percent in overall school grading.
A $10 million teacher recruitment program that includes tuition forgiveness for as many as 1,700 new teachers a year who commit to working in Florida's education system for at least five years.
A "bad actor" list that will seek to prevent school operators who are sanctioned or shut down from reopening their school with a new name or through another individual.
Principals could get $6,500 bonuses.
Bonuses granted under the Best & Brightest would no longer hinge on college entrance exam scores, such as the SAT and ACT.
The percentage of African American teachers would increase from 1 percent to 9.8 percent.

Stay on top of Orlando news and views. Sign up for our weekly Headlines newsletter.