Photo via SeaWorldThemeParks.com
After a nearly yearlong search,
SeaWorld recently announced
their brand-new CEO, Gus Antorcha, in a move that surprised many.
The past year has seen the hard decisions made by former CEO Joel Manby beginning to pay off, with the stock reaching its highest value in years and attendance seeing impressive growth. Interim CEO John Reilly made sure not to cause any waves during his year tenure as CEO, but many had expected him to be chosen for the job eventually. Instead, he'll now be the company's chief operating officer, a move that allows him to harness his lifelong expertise with the company, while not having to make the hard decisions that may have isolated him amongst his coworkers.
Antorcha comes from Carnival Cruise Lines where he served as Chief Operating Officer. His MBA from Stanford University and a bachelors from Duke in economics, where he graduated magna cum laude. Being an outsider, entirely new to SeaWorld and animal-based attractions, gives Antorcha an unbiased view when it comes to the future of the company.
There are plenty of big decisions ahead for Antorcha. Most of them will fall into five major categories.
Television and other media opportunities
Most people are familiar with theme parks side of SeaWorld Entertainment, but the company has a long history of entertainment beyond just the theme parks. Winning their first Emmy in 1994 for the educational television show
ShamuTV
, SeaWorld has a rich history of successful educational television programming. Just last year it ended production of
Sea Rescue
, another Emmy award-winning show. That show, along with its sister production
Wildlife Docs
, are disturbed via partnerships with
Litton Entertainment
.
Wildlife Docs
moved to The CW last year after ABC shifted around some of its educational
programming
.
Antorcha is no stranger to educational-based reality television. Carnival currently produces
four educational shows
of its own, three of which are also disturbed by Litton Entertainment. Collectively the three shows reach a weekly audience of more than 5 million households. A fourth series, La Gran Sorpresa, airs on Univision.
Backlash
from
Blackfish
showed how much SeaWorld relies upon its theme parks. One possible way to create a more secure future would be to expand beyond the theme parks. With their success in educational television programming and Antorcha's familiarity of that market, more programming like The Wildlife Docs might be in SeaWorld's future.
Hotels, new parks, and operations
SeaWorld has previously announced
plans for hotels
at multiple parks in the chain, but more recently has
quietly ended
those partnerships or otherwise downplayed any hotel expansion plans. From an Animal Kingdom Lodge style resort at Busch Gardens Tampa to Bora Bora style bungalows at Discovery Cove, there are plenty of potential options for overnight accommodations at SeaWorld parks. Under former CEO Joel Manby's leadership, the company identified possible locations at each of the parks where hotels would work best. That was three years ago, and so far the company hasn't given a single update on those plans since then.
Before becoming COO, Antorcha was Carnival's Executive Vice President of Guest Operations. As COO, he oversaw hotel operations, guest care, and new builds among his other duties. If SeaWorld wanted to get into the hotel operations game itself, Antorcha would be the perfect leader for such an expansion.
With hotels at the parks, year-round operations might be a better option for the non-Florida and California parks that aren't open year-round. Six Flags has been
testing year-round operations
at more of their parks in recent years and other parks, like Dollywood, have an ever-increasing operating calendar thanks to special holiday events. SeaWorld parks already have a full calendar of successful events but shorter operating hours at some parks while expanding the operating year at others might help the company draw higher attendance while also increasing revenue.
The focus can't just be on the current parks though, SeaWorld also has an agreement to open a new Sesame Place kids amusement park
by mid-2021
. With the date quickly approaching, SeaWorld hasn't given any indications of where or when this new park may open. In early 2018,
a leaked survey
seemed to indicate the company's interest in adding a Sesame Place to their Williamsburg, Virginia resort but those plans now seem to be on hold. More recently San Diego has been floated as a potential location for the new park, though it's obvious it wouldn't be at at the company's SeaWorld park there which has seen multiple
new thrill rides
in development. Large amounts of undeveloped land at the San Antonio park could allow for a Sesame Place there, but unlike the San Diego and Williamsburg options, San Antonio has little in the way of existing infrastructure for the new park that needs to be quickly built.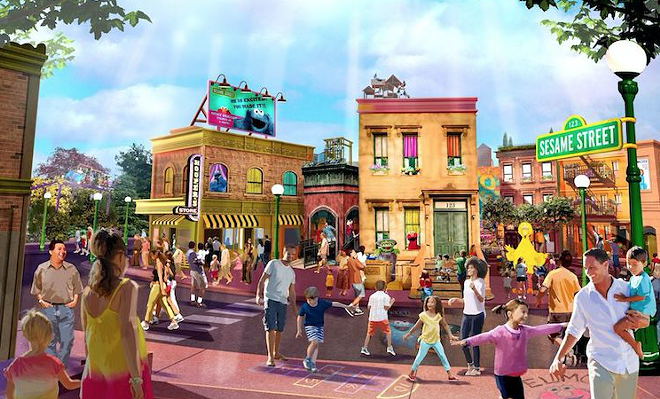 Photo via SeaWorld
Sesame Street at SeaWorld Orlando
With a new Sesame Street-themed area planned for SeaWorld Orlando, it's clear Florida isn't in the running for the new park, while also making it clear that SeaWorld is serious about keeping the Sesame Street theme park rights. But with the clock ticking, SeaWorld will need to move quickly if they want the new park open before the deadline that is now less than two years away.
Wherever the new Sesame Place park goes is a likely contender for the first SeaWorld hotel, since the resort will then become a true multi-day destination.
Beyond the required new park, the Sesame Street brand could prove fruitful for SeaWorld if they follow the same model that Merlin has used with the popular Legoland park chain. Six Flags has also expressed interest in bringing a
kids-focused amusement park
to the U.S. SeaWorld could corner the market before Six Flags or Merlin have a chance to expand if they move quickly with the Sesame Street brand.
International expansions
With their Chinese parks confirmed dead, thanks to
Zhonghong's incredible implosion
late last year, SeaWorld's international expansion plans are now far less clear than they were just a few months ago. SeaWorld Abu Dhabi is moving forward with major construction happening on the site but beyond that park, still scheduled for an opening in 2022, there are now no plans for any international parks. A new deal to bring the chain to Asia will likely be high on Antorcha's list of projects for the company.
Previous agreements, such as those with
Village Roadshow
, haven't given SeaWorld that coveted international park but if the Abu Dhabi park is successful, it should help sell the brand to other international clients.
Thrills versus families
Late last year a
leaked company presentation
laying out the 2020-2022 projects for SeaWorld's parks confirmed the companywide focus on thrill rides. With the sole exceptions being SeaWorld Orlando's Sesame Street area that will open in the coming months and SeaWorld San Antonio's new flat ride anchored sea turtle themed area, nearly every project in the pipeline is a high thrill focused addition. Major new roller coasters are in the works for Busch Gardens Tampa, Busch Gardens Williamsburg, and SeaWorld San Diego.
Antorcha will need to decide what demographic the company should to focus on. More thrills might isolate families who make up a large segment of SeaWorld's current attendance but thrill rides could help bolster attendance as coaster fans folk to the parks to experience the latest offerings.
Significant expansions seem to already be in the works for Williamsburg and Orlando, but even those are slated to happen within the next 28 months. Beyond that little is known regarding the future of the company's five major theme parks.
Many are wondering if SeaWorld parks will become better themed Six Flags or will they remain a budget-friendly alternative to Disney and Universal. What is clear is the future of the parks seem to be one away from animal shows and orcas.
That leads us to our final and likely biggest item that Antorcha will need to make a decision on.
Orcas, Shamu, Blackfish, and Manby's legacy
Former CEO Joel Manby isolated some longtime SeaWorld fans due to his partnerships with organizations like the
Humane Society
of the United States. These partnerships were part of Manby's attempt to move SeaWorld past the
Blackfish
backlash that nearly caused the company to go belly up.
An end to orca breeding, a shift to more educational focused shows, and plans for larger orca habitats were all announced. Now Manby is gone, and many of his decisions are being reviewed. For SeaWorld to renege on their promise to end orca breeding would likely be devastating for the company and would mean an immediate breakup with partners like the Humane Society. Such a bold move is highly unlikely but more nuanced aspects of the future of orcas at the company is still very much up in the air.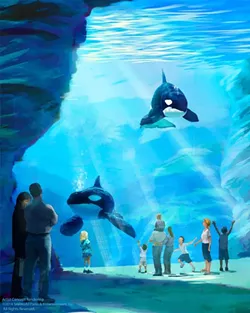 An artist's rendering released by SeaWorld of the proposed Blue World orca habitat
The
Blue World Project
first announced for SeaWorld San Diego now looks canceled though rumored plans for an improved orca habitat in San Antonio seem to be drawing heavily from the Blue World project. The aging orca population means more high profile deaths, like last month's
passing of Kayla
. With each passing SeaWorld faces renewed criticism for their handling of the captive orcas. Since many of the orcas are captive born releasing them into the ocean seems unlikely. No matter what SeaWorld does with the orcas it will bring criticism, so the best option might be finding a partner to help move the animals to a non-public facility (similar to Feld's move with the Ringling Brothers elephants) or even an international park where orca captivity is less controversial. Despite SeaWorld's shift in focusing less on the orcas they still remain a crucial issue within the company.
Beyond the live orcas themselves, SeaWorld has the Shamu brand. If
recent actions
are any indication, the company will continue to slowly remove all mentions of Shamu from its parks as it tries to downplay orcas as part of the overall SeaWorld brand.
Manby also shifted SeaWorld's theatrical shows to more educational based ones with San Diego being the first in the chain to see their Shamu show replaced with the more educational focused
Orca Encounter
. Both Orlando and San Antonio were slated to receive this similar shows this year, but SeaWorld has been silent on its plans related to this changeover. Antorcha will need to decide if he will continue the decisions of his predecessor or will he instead bring back the theatrical shows that SeaWorld, for better or worse, is known for.
SeaWorld is a brand with plenty of bad press in recent years, but it's also a brand that's been recovering quite impressively over the past 18 months or so. Antorcha has the opportunity to make a name for himself if he continues to improve the SeaWorld brand or he could become the infamous CEO who caused the company to finally close. The 2018 fourth quarter and fiscal year
earnings call is scheduled
for February 28. Despite not being at the company during this quarter, Antorcha will be a significant focus of this call with investors. We should learn more about his plans for the future of the company before or during that conference call.
One more thing to watch for during the upcoming conference call is Hill Path Capital, one of the
largest shareholders at SeaWorld
. Interestingly enough, the three largest shareholders at SeaWorld are also in the top five largest shareholders at Dave and Buster's. Even more interesting and relevant is Richard Golding, an operating partner at Hill Path, serves on the board of directors at Parques Reunidos, who has previously been floated as a possible buyer of the SeaWorld company. Parques Reunidos announced
a new CEO
less than a week ahead of SeaWorld's announcement. One of his four main goals as CEO will be corporate acquisitions. It looks like old rumors never die.
Stay on top of Orlando news and views. Sign up for our weekly Headlines newsletter.