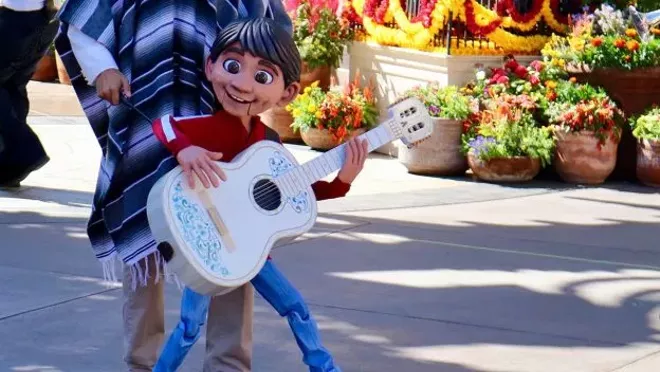 When
Coco
came out in 2017, there was immediate speculation that Disney would be redoing the boat ride in Epcot's Mexico pavilion to cash in on the hit film. Now a year and a half later there hasn't been any indication that any such attraction is in the works.
Disney did unveil an interactive
Coco themed exhibit, Remember Me!
, in the entrance area to the indoor section of Epcot's Mexico pavilion. The display, which was delayed by a few months, was rumored to be a testing ground for Disney to gauge how popular Coco was to park guests. Unfortunately, like many exhibits in the World Showcase, many guests walk right past the
Coco
one on their way to tequila or their next ride (it's surprising how many guests seem not even to realize that there's an indoor section at all to the Mexico pavilion).
Then last week, Disney announced a new
Coco-themed show
is coming to the pavilion just in time for the Flower and Garden Festival. The Mariachi Cobre band will be joined by two dancers and what looks to be a puppet version of Miguel in a show that will retell the story from the movie.
Coco remains one of the biggest Thanksgiving film openings ever. The 22-week long run saw the film bring in over $800 million in worldwide box office sales, but despite these stellar numbers Disney has been slow to embrace the movie, especially at Walt Disney World.
Now speculation is once again reviving the previous rumors of a
Coco
-themed ride heading to the Mexico pavilion. The thought is that Disney executives have realized that museum exhibits, even high-tech ones like "Remember Me!," aren't a good way to gauge visitor interest in a intellectual property. Just next door in Norway, Frozen has proven this point where a
Frozen-themed museum exhibit
in the Stave Church was replaced last year.
The new
Coco
-themed show and ongoing retail sales might be a better indication for interest in the film rather than an exhibit that many guests seem to walk right past.
Back when the original rumors of a
Coco
boat ride broke insiders had indicated that Disney leadership was deciding between the Mexico pavilion update and a Mary Poppins one the United Kingdom pavilion. More recently these same
insiders are reporting
that Disney has greenlit a small Mary Poppins themed "flat ride" for the United Kingdom. Little is known on what this off-the-shelf carnival-like ride will be, but
previous rumors
pointed to a carousel being considered.
The much larger and more expensive Mary Poppins-themed dark ride and meet-and-greet that was at the time being considered now seem to be shelved entirely. This scaling back of the Mary Poppins addition could be an indicator that Disney leadership has decided that instead of an either/or situation between Mary Poppins and Coco that they want to do both.
In recent months, the Gran Fiesta Tour boat ride has seen a decline in upkeep with a nightmare-inducing
broken Three Caballeros scene
going viral just a few weeks ago. In a theme park with few kid-friendly attractions, this boat ride regularly has some of the lowest waits in all of Walt Disney World.
There are also the rumors of an upcoming
Brazil pavilion
to consider, since the Three Caballeros film is actually based in South America and technically has nothing to do with Mexico itself.
Any update to the Gran Fiesta Tour attraction would require Disney to close nearby stores or restaurants, a move that might be difficult considering some of those are managed by a third-party. But Disney is already working with this group on
improved offerings
in other areas of Walt Disney World which could give them some leverage in negotiations involving the future of the Mexico pavilion.
Disney has now shown that it's not ready to give up on
Coco
, but the question remains if they're now committed to going all-in on a permanent attraction for the Pixar film.
Stay on top of Orlando news and views. Sign up for our weekly Headlines newsletter.