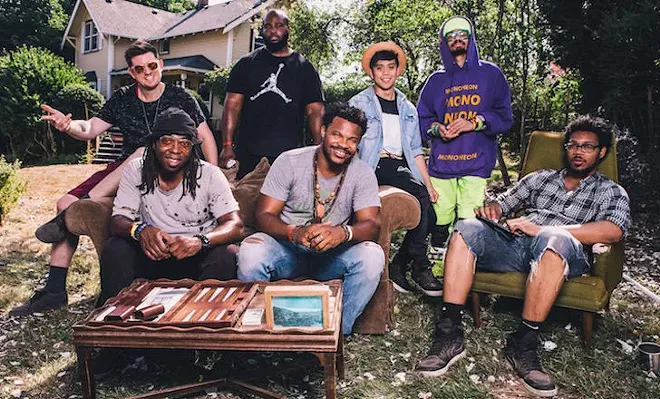 Photo via Royal Artist Group
A ghost note in music is known as a "muted note" or "dead note": Dallas' band Ghost-Note, however, is a very different proposition, creating music that bursts with vibrancy and life. The Snarky Puppy offshoot calls their sound "conscience funk" and it's all true.
Ghost-Note's new album
Swag-ism
takes inspiration from every corner of the globe to craft an incredible sonic experience. If your life doesn't have enough songs in the key of Prince, Fela Kuti, Trap music, Stevie Wonder, and P-Funk then tonight at the Abbey is the chance to change that, when Ghost-Note performs along with Leisure Chief and Electric Kif.
Swag-ism
is an historical journey of funk and fusion with some ragtime in the mix, a little scat singing here and there, and impeccable horns and reeds. Co-leaders Nate Werth and Robert "Sput" Searight, who also serve as the rhythm section for Grammy winners Snarky Puppy, have for
Swag-ism
enlisted backing musicians from Kendrick Lamar, Erykah Badu, Herbie Hancock, and Justin Timberlake into a crack division that will make you move. Nate Werth spoke to
Orlando Weekly
about the album.
What's the vision that you and Searight had for Swag-ism?
It's a friends-and-family affair with Ghost-Note. Good vibes with a social conscience and a sense of humor permeate this band's music.
What is Swag-ism?
The goal is to get the listeners to think objectively and not be angry with the supporters of the right, to take action intelligently and look at the bright side and with a sense of humor … laugh at these "angers."
That's apparent with the music, you can get down hard on it, listen after listen, but the skits between that parody and poke fun at some of the darker things in present times is priceless. Tracks like "Trife-Life", or "No More Silence" could be near anthems, explosive with energy.
Those songs are highlighting Sput and I's communication and trying to become one drummer, to get that J Dilla hip-hop feel, as well as all of our frustrations wrapped up into music. Making almost to the point you want to turn it off but then bring you back. The feeling is I'm frustrated but I'm focused.
It's amazing how so much music is politicized nowadays. Swag-ism comes off at times as a soul assault. The heavyweight guest list adds to this, Kamasi Washington, Sly 5th Ave., Karl Denson, some "bad hombres" in a good way, a real friends and family get-together.
It's a scary atmosphere, but it's fun to play some dirty, dirty beats, and trying to get people to listen.
Ghost-Note, Leisure Chief, and Electric Kif play the Abbey
tonight, Wednesday, Feb. 13 at 7 p.m.
Tickets are $12-$15.
Get our top picks for the best events in Orlando every Thursday morning. Sign up for our weekly
Events newsletter.