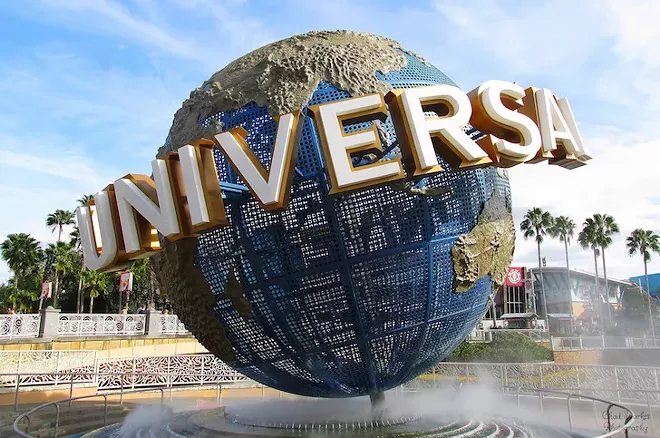 Photo by Chad Sparkes/Flickr
Despite remaining silent publicly, behind the scenes Universal is hard at work on their still unannounced
third theme park
that will be located near Lockheed Martin and the Orange County Convention Center.
With an expected opening sometime in the early 2020s, the new park will be the first to open in Orlando since Islands of Adventure opened two decades ago.
Although its opening is just a few years away, we still know very little regarding this massive project. New documents filed with Orange County, though, confirm some recent rumors while also giving us our first idea of the size for the new park.
Photo by bioreconstruct via Twitter
Site work where Universal's new south campus theme park is expected to be going. The theme park will be located in the center left with the parking lot on the righthand side of the image.
A revised land development plan was filed with Orange County last week that gives the best details yet of what is slated for the 541-acre plot.
It only shows primary roads, parking areas, and other basic water drainage information, but there are few critical updates from the initial plan that was filed in October.
Leaked documents
from a Comcast meeting mentioned a hub-and-spoke style design, similar to Magic
Kingdom
. This would be a drastic shift from every Universal park previously built. The new land development plan all but confirms this design with both private service roads reaching into the middle of the park where a circular water line is located.
Again, no buildings are in these plans, but the circular design for the water pipe show some type of circular design in the exact center of the park, likely where the hub will be located.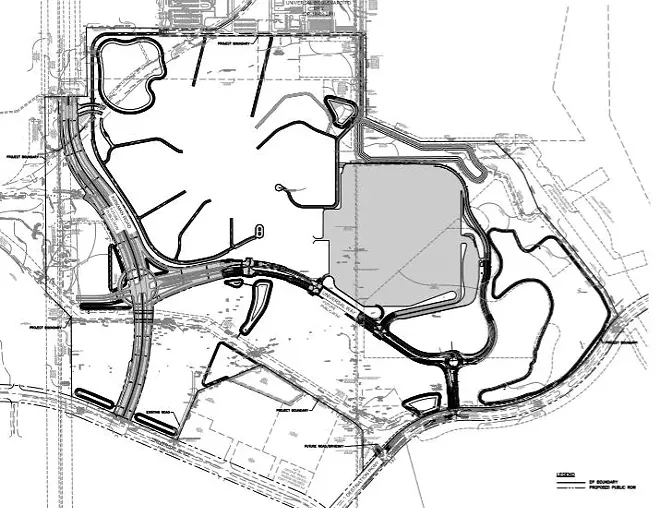 Photo via Orange County Government
Documents prepared by Kimley-Horn that are thought to be Universal's new south campus theme park
Wrapping around the park is a service road typical of most amusement parks with ancillary roads reaching towards the center of the park, likely between each of the lands.
Seven sections and the entrance area are clearly defined by the service roads, though one of them is mostly filled with a large retention pond.
Previous rumors have pointed to four to five lands in the new park, with leaked documents stating that Universal is designing the park with expansion plots being prepared for future lands.
Photo via Orange County Government
Documents prepared by Kimley-Horn that are thought to be Universal's new south campus theme park
Also new in the revised plan is the parking lot area. While this large plot was previously assumed to be the parking lot, the new documents show the layout of the surface lot.
Although final design schematics are likely still far from done, the current plan shows a handicap parking area that is nearly identical in size to that of Magic Kingdom – pointing to Universal's plans for
large
attendance at this new park.
The new road connecting the park to the Kirkman Road extension is named Universal Way. Separate transit lanes, likely for a bus rapid transit system, like the LYMMO system found in downtown Orlando, is clearly marked on the plans.
There are also bus lanes pulling into an area of the new park where no roadways are yet to be defined. This entrance looks to be separate from the bus and taxi area that is clearly identified on the opposite side of the park entrance. It is unclear what this separate bus entrance is for, though it could possibly be for Universal-specific buses or maybe an entrance to a hotel. There were rumors of a hotel that would be located at the front gate of the new park, but more recently those rumors have quieted down, possibly indicating that plan was postponed or canceled.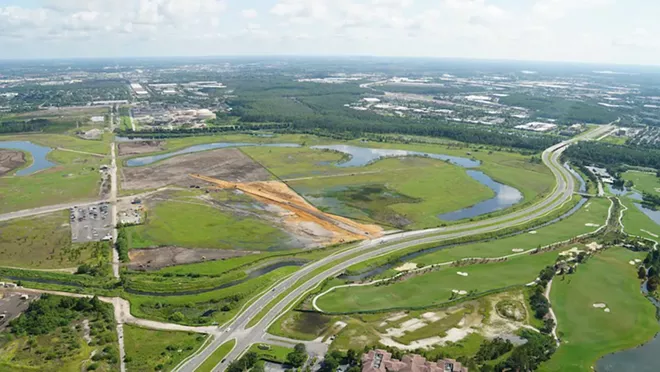 Photo by bioreconstruct via Twitter
Universal has built a new access road to its expansion properties a few miles southeast of its current theme parks in Central Florida.
The plans for this site are only phase one for Universal's south campus.
More than 400 acres remain untouched for future developments beyond what is currently in the works. Universal may also eventually rework the surface parking lot seen in these plans, opting for a parking structure like what the current resort has. All of those plans though seem to hinge on the success of the upcoming park.
With these plans now moving forward, more detailed permits will be published that hopefully show us an even better understanding of what exactly Universal has planned for this ambitious new park.
Photo via Orange County Government
Documents prepared by Kimley-Horn that are thought to be Universal's new south campus theme park

Get our top picks for the best events in Orlando every Thursday morning. Sign up for our weekly Events newsletter.