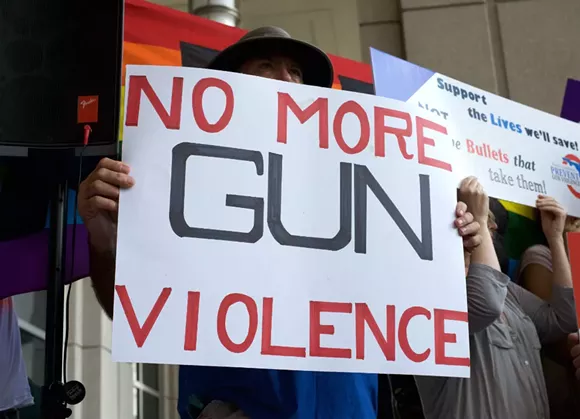 Photo by Monivette Cordeiro
Florida Rep. Anna Eskamani and Sen. Lori Berman sponsored legislation Wednesday that would keep guns from convicted domestic abusers.
Federal gun laws provide protection for women from domestic abusers by prohibiting firearm possession for individuals convicted of a "misdemeanor crime of domestic violence" or subject to a final domestic violence restraining order.
But elected officials say the "
Gun Safety for Women Act
" will close any potential gaps in the system by requiring a person convicted of a misdemeanor domestic violence offense to surrender all firearms and ammunition to law enforcement.
"Guns pose a grave and imminent threat to the safety and well-being of countless women and families," says Berman, D-Boynton Beach. "Insufficient and weak gun laws on both the state and federal levels are at the heart of the problem with gun violence against women in our country."
U.S. women are 16 times more likely to be killed with a firearm than women in other high-income, developed countries, according to data from the
National Partnership for Women and Families
.
A study by the gun reform group
Everytown for Gun Safety
also found that of 156 mass shootings that took place in the U.S. between 2009 and 2016, 54 percent of the shootings were "related to domestic of family violence." The analysis defined a mass shooting as an incident in which four or more people were shot and killed, not including the shooter.
"Experts who investigate mass shootings say a history of domestic violence is often a missed clue," says Eskamani, D-Orlando. "We have seen more than one case in Florida where a mass shooter has had a history of domestic violence. The lives of Floridians – and especially women's lives – are on the line, and we are going to keep fighting for their safety."
Stay on top of Orlando news and views. Sign up for our weekly Headlines newsletter.