Bao Le-Huu
Ingrid Sertso, Karl Berger, Doug Mathews and Billy Martin at the Timucua White House
THIS LITTLE UNDERGROUND
Billy Martin and Karl Berger & Friends, Timucua, Feb. 17

Even by the
Civic Minded 5's
already exclusive standard, this was a special engagement. The heavyweight New York State jazz cabal of
Karl Berger, Ingrid Sertso
and
Billy Martin
have recently descended on Orlando to mix it up and make a little noise around town. And of course, the CM5 and the Timucua Arts Foundation were in on the action.
Liz Penta
Billy Martin
This night's main event was Billy Martin, one of the most acclaimed and important percussionists of his generation. The legendary
Medeski Martin & Wood
drummer performed a suite of his newest solo work (
Disappearing
). Across nearly
45 nonstop minutes
of beat and shake, he worked a wide-ranging palette, traversing a galaxy of percussion instruments in an adventure that was by turns mercurial, playful, seeking and hungry.
Bao Le-Huu
Billy Martin at the Timucua White House
He opened with a live-looped union that sounded like a dance between a wind chime orchestra and drums. In another captivating and much more elemental sequence, Martin explored the acoustical topography of the room through a tambourine and its interactions with the various mics in the room and the space itself. As he roamed around the stage, he made his way over to the piano and incorporated it into his set's narrative. Beyond that were examinations with a panoply of other sounds and percussive media.
Bao Le-Huu
Billy Martin at the Timucua White House
But it was on the standard drum kit during the finale where Martin demonstrated his fiercest dynamics. Shifting intensity from quiet acrobatics to full blitzing alarm in whiplashing turns, the effect was both jarring and exhilarating.
Bao Le-Huu
Billy Martin at the Timucua White House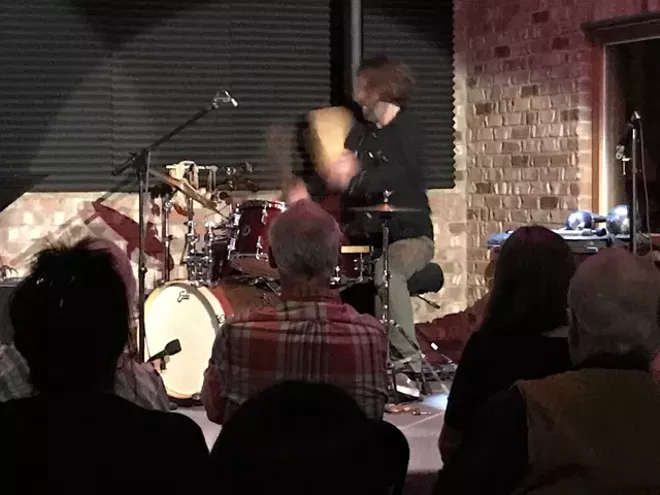 Bao Le-Huu
Billy Martin at the Timucua White House
Rather than some extended drum solo or exhibition, Martin's performance was a
full musical journey,
one far more expansive and interpretive than pop conceptions of rhythm. He never flinched in pushing the edge, perhaps knowing he always had a proven pocket to return to. It was bold in quest and experimentation with lots of on-the-spot inspiration, but always sparking with sophisticated flair. Seeing a master at work is always a delight. But seeing one on the
high wire
like this is a thrill.
Bao Le-Huu
Ingrid Sertso, Karl Berger, Doug Mathews and Billy Martin at the Timucua White House
Also on the bill were
Karl Berger & Friends,
who brought it home with the jazz. These particular friends were the accomplished crew of
Ingrid Sertso
(vocals, poetry),
Martin
himself (percussion) and distinguished local
Doug Mathews
(Sam Rivers' longtime bassist). Berger led with his limber but commanding style on both piano and vibes. Mathews' exceptionally expressive bass work was light years beyond mere rhythm. Alongside, Martin once again kept things out on the fringe with his expansive textures and technique.
Bao Le-Huu
Ingrid Sertso at the Timucua White House
And in her delivery, the crucial Sertso didn't just lay words atop the tapestry but matched the other players' dynamism with tailored jazz cadence and breathy elasticity. Together, they slipped back and forth from well-oiled ensemble to open interplay with courage and poise.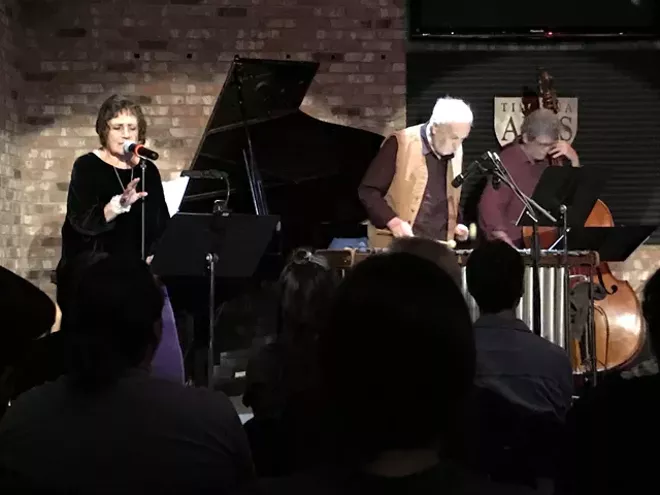 Bao Le-Huu
Ingrid Sertso, Karl Berger and Doug Mathews at the Timucua White House
Follow Bao on Twitter (@baolehuu)
Email Bao: baolehuu@orlandoweekly.com