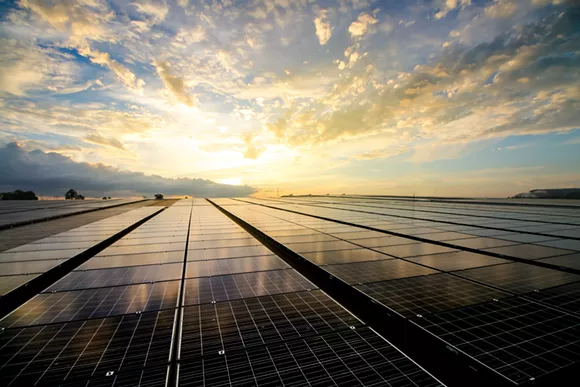 Two Florida lawmakers want all the energy used in the Sunshine State to come from renewable sources like solar and wind power by 2050.
State Rep. Anna Eskamani, D-Orlando, and Sen. José Javier Rodríguez, D-Miami, have filed identical bills
HB 1291
/
SB 1762
. The measure directs the Office of Energy within the state Department of Agriculture and Consumer Services to create a unified plan to generate 100 percent of Florida's energy from renewable sources by 2050.
The bill also directs the Office of Energy to consult the plan with other state agencies, colleges, universities, utilities, and private and public partners. The plan is also required to include interim goals that would have Florida generating at least 40 percent of its electricity from renewable sources by 2030.
"As the Sunshine State, Florida should be a nationwide leader in the push for 100 percent clean, renewable energy," Rodríguez says in a statement. "In order to ensure a more sustainable, bright future for our children, we must take a strong, clear position on committing to renewable energy today."
The two lawmakers say Florida's current energy sources "pollute our air and water – harming our health and precious eco-systems." Hoping to stem the effects of climate change, the proposal says switching to renewable energies will displace fossil fuel consumption in the state and reduce toxic air pollution.
Several cities in Florida, including
Orlando
, St. Petersburg and most recently
Tallahassee
, have committed to running 100 percent on renewable energy within the next decades.
"Committing to clean, renewable energy shows our state's commitment to protecting public health and sets a bold agenda to foster the growth of green jobs too," Eskamani says in a statement. "In fact, solar installers are one of the fastest growing jobs in Florida, with Central Florida being a major driver for this market. And when it comes to public health, we know that in one year 2,577 Floridians die prematurely from air pollution caused by electricity generation. We can and must do better."
Stay on top of Orlando news and views. Sign up for our weekly Headlines newsletter.