A Florida pelican bit a Maryland man's face after being tackled in Key West last week.
The
Baltimore Sun
reports the Florida Fish and Wildlife Conservation Commission is investigating Hunter Hardesty after he posted a
video
of himself on Facebook attacking the federally protected brown pelican.
The
Monroe County Sheriff's Office
says the FWC informed Sheriff Rick Ramsay Monday that the agency is in the process of filing two criminal charges against Hardesty for animal cruelty and molestation of a protected species.
The video shows the Maryland man luring the pelican to the edge of the harbor with what looks like a fish and then jumping into the water on top of the bird.
Onlookers laugh as Hardesty holds on to the stunned pelican with both hands, while a woman tells him she's going to call the authorities if he doesn't get out of the water.
The pelican seizes it chance and slaps a distracted Hardesty with its wing. The bird then lunges at the man and bites Hardesty's face with its beak before flapping away.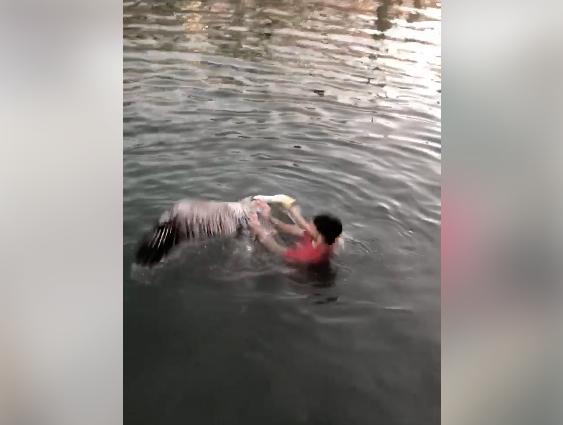 Hardesty later posted on Facebook in the video's comments about the pelican, saying "Next time ima eat him for dinner!! Wonder what they taste like."

Orlando Weekly
reached out to Hardesty for a comment but did not hear back immediately.
FWC spokesperson Rob Klepper says the state agency is taking Hardesty's video "seriously."
"Our law enforcement division is investigating the incident for possible criminal violations," Klepper says in a statement.
The
Monroe County Sheriff's Office
says there are other pictures and videos of Hardesty allegedly holding a
Key deer
, which is also a federal protected animal.
"I shared the anger of those who contacted me regarding this video," Sheriff Ramsay says in a statement. "This type of behavior – the abuse of animals – will not be tolerated on my watch and I know our law enforcement partners at the FWC and at the federal level share that mindset."
Stay on top of Orlando news and views. Sign up for our weekly Headlines newsletter.