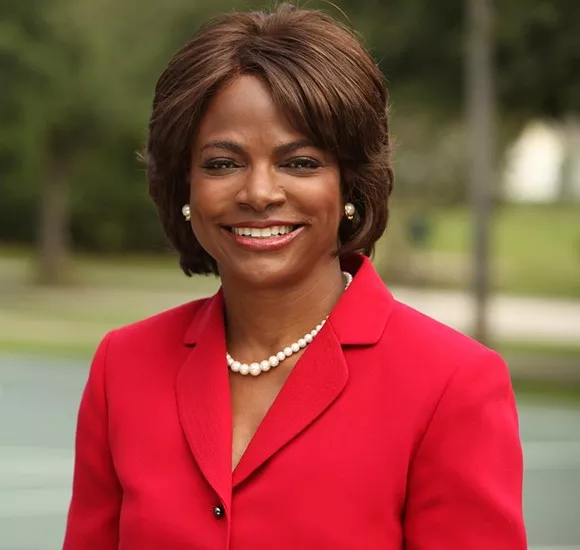 Photo via Val Demings' campaign
The
Vladimir Putin Transparency Act
, a bipartisan piece of legislation introduced by Congresswomen Val Demings and Elise Stefanik, was approved Tuesday by the U.S. House of Representatives.
The legislation is intended to expose financial assets and hidden networks that pertain to Russian President Vladimir Putin by calling on the U.S. intelligence community and federal government to create and submit to Congress a report on all of Putin's financial holdings. That includes any potential "front" or shell companies, as well as detail on "the most significant senior Russian political figures ... who facilitate corruption."
"To protect our national security and democracy, it's vital that we investigate and expose the Russian president's financial networks and cut off the illegal funding for these criminal attacks against our country," says Demings, D-Orlando, on the House floor. "We will not stand for this attempt to override the voices of the American people. It's time to hold him accountable. This legislation will expose the corrupt finances being used to fund attacks against our democracy."
The legislation references intelligence reports that state Putin ordered a psychological influence campaign that consisted of "covert intelligence operations ... by Russian Government agencies, state-funded media, third-party intermediaries and paid social media ... 'trolls.'"
"Putin and his corrupt allies seek to weaken democracies globally by consolidating political control through unethical means, and they must be brought to account for their actions," said Stefanik, R-New York.
If approved by the GOP-controlled U.S. Senate, the legislation would require the reports be prepared by the U.S. Director of National Intelligence, with the help of the Secretary of Treasury and the Secretary of State. The reports would be presented within 180 days of its passage to several committees in the House and Senate.
Demings and Stefanik also introduced a piece of bipartisan legislation dubbed the Defend Against Russian Disinformation Act in 2018, with the intention of strengthening federal cybersecurity, supporting intelligence gathering and enhancing NATO military activities. In a joint news release the congresswomen say the measure passed today expands on that work.
Stay on top of Orlando news and views. Sign up for our weekly Headlines newsletter.