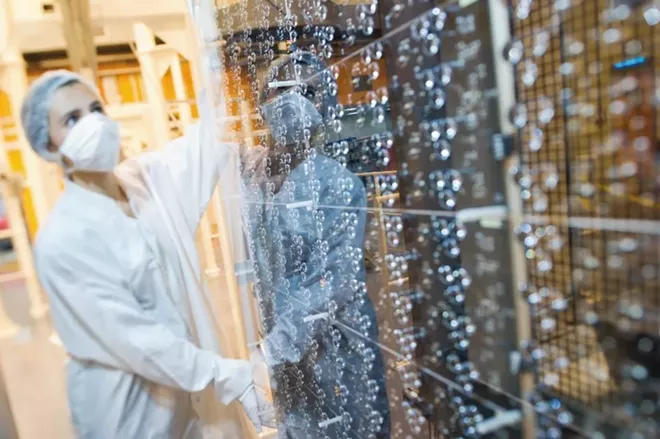 The Space Coast Consortium Apprenticeship Program (SCCAP) will be holding a town hall meeting near the Kennedy Space Center next week for students to learn more about becoming an apprentice with local space and defense firms.
The group will meet Wednesday, March 27, from 5 p.m. to 7 p.m. at the Space Life Sciences Lab, 505 Odyssey Way, on Merritt Island, which is outside the restricted area of the space center.
After a presentation, a bus will take the group to a tour of OneWeb Satellites' new high-tech manufacturing plant nearby. You have to
RSVP
on Eventbrite to get a free ticket. A max of 80 people will be allowed at the town hall.
Seven companies will offer 19 apprenticeships this fall, only in connection with Eastern Florida State College in Melbourne. The program is expected to grow after that as new space companies establish bigger manufacturing operations on Florida's Space Coast. The need for skilled tech labor is growing, including mechanics and technicians for such high-tech equipment as CNC (Computer Numeric Control) tools that cut precision shapes.
The new apprentice program is a registered state program offering two-year apprenticeship positions. Apprentices work part-time paid positions at member companies while attending Eastern Florida State for degrees in engineering or aerospace.
The companies are OneWeb Satellites, RUAG Space, Knight's Armament, Matrix Composites, Rocket Crafters, Discovery Aviation and Precision Shapes. At the end of the apprenticeship, successful student apprentices will be offered a full-time position with the member companies. The program will start with a paid two-week summer orientation trial in June and then an official offer.
Interested students should contact the event's coordinator, consultant Bryan Kamm at 813-415-7514 or bryank@bkammconsulting.com.
Stay on top of Orlando news and views. Sign up for our weekly Headlines newsletter.