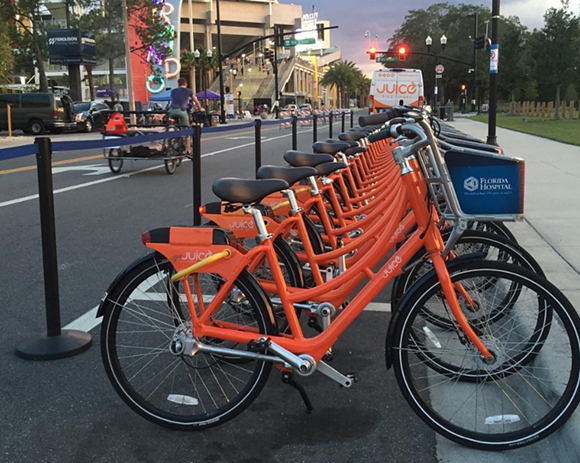 Juice Bike Share has been squeezed out of Orlando, with service ending March 24.
Juice, which launched in 2015 as the first public bike share program in Orlando, has already begun removing dock stations after its contract with the city ended, according to an email sent to members Monday.
The company will not be going away permanently, though. Juice is relaunching itself as a "new and improved" dockless bike share program called
HOPR
.
"The updates will make it easier to unlock, ride and enjoy bike share in Orlando," the company says in an email. "Your remaining Juice balance will be transferred to the new HOPR system."
Juice had been struggling with ridership for some time, especially since the city of Orlando passed an ordinance that allowed bike sharing without using a rack. The move cleared the way for
500 dockless electric Lime bikes
to operate in Orlando. Unlike the orange Juice bikes, which have to be left at a dock station to complete the ride, the green Lime bikes can be left anywhere.
Through 2018, Juice totaled 24,053 rides using its roughly 200-bike fleet, while Lime accumulated 17,000 rides in about a month and a half, according to data provided by the city to
Orlando Weekly
in January.
"Since 2016, Juice riders have taken over 115,000 trips and ridden over 200,000 miles," the company said in a statement.
The orange Juice bikes will be available to purchase without the sharing lock and controller for $499. If you would like to own a piece of Orlando's first public bike share program, email info@juicebikeshare.com.
Stay on top of Orlando news and views. Sign up for our weekly Headlines newsletter.