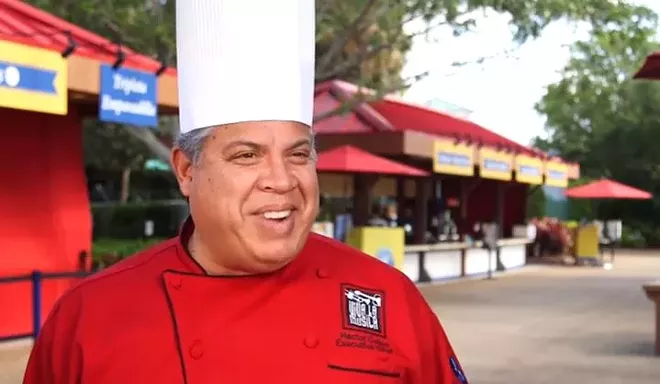 Photo via SeaWorld Orlando
Chef Héctor Colón
SeaWorld Orlando's
Chef Héctor Colón
has showcased his familiarity with traditional Hispanic food culture for years, but until recently, most of this was reserved for the park's "Viva la Música" festival.
Photo via SeaWorld Orlando
Cinnamon Slow Roasted Pork Belly at the Seven Seas Food Festival
Now the park seems to be settling in on a line-up of events. The "Viva la Música" and "Bands, Brew and BBQ" festivals have been rolled into one program, the
Seven Seas Food Festival
.
When it first debuted, the new food festival saw its menu updated in the final few weeks to add the Hispanic items that were previously served during "Viva la Música." But now with more freedom to try things not specific to Hispanic culture or barbecue, Chef Héctor has begun introducing bold new food items.
Sandwiches where the bread is a doughnut, Asian-inspired pulled duck lo mein and Cajun lobster cheesecake
are
now served alongside old classics like the cinnamon pork belly and the shrimp mac-and-cheese. The drink menu of the old "Bands, Brews and BBQ" event has now been expanded to include a punch that mixes sweet tea and Jack Daniel's honey whiskey, as well as rum runners and a frozen Key lime martini.
New permanent food stalls have been built around the park in recent years, and even the events that don't have a specific food focus, such as the popular Electric Ocean summer event and Christmas at SeaWorld, now feature unique food stalls.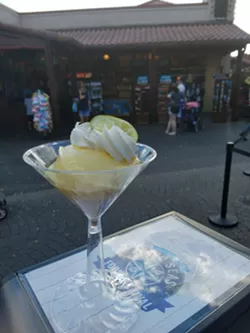 After testing a year-long meal plan and trying various dining options around the park, SeaWorld is now shifting to focusing more on these food stalls, with menus that evolve throughout the year based on the various festivals. Spring has the global flavors of the Seven Seas Food Festival, summer has modern takes on classic theme park fare during Electric Ocean, fall has the
Craft Beer Festival
with a menu designed to pair perfectly with the dozens of unique brews and winter has Christmas-inspired items. Those events have seen their Hispanic food offerings increase with even more original plates planned for this year.
This year the Seven Seas Food Festival includes Fridays, where the park-wide happy hour includes BOGO beers at select locations after
4 p.m
. A decade after discontinuing the practice, last year SeaWorld brought back the
free beer samples
that were a staple of the park during its Anheuser-Busch years. The promotion returned to Busch Gardens Tampa earlier this year and will return to SeaWorld Orlando this summer.
Concept art via SeaWorld Orlando
All of this focus on improving the park's food and beverage has created some bumps along the way.
Seafire Grill, one of the park's largest restaurants, has seen dramatic shifts to its menu in recent months. Fajitas made way for Chinese food before settling on the restaurant's current menu of fried and grilled chicken.
During a media hard-hat tour of the upcoming Sesame Street land, SeaWorld employees seemed caught off guard by questions about if the park will serve Cookie Monster-inspired cookies. Soon after a press release confirmed that a Cookie Monster-themed food truck will serve fresh cookies and other desserts.
The park's Shark's Underwater Grill is still panned as one of the worse specialty dining options in any Central Florida theme park. The dated dining room hasn't received much love, but the theme park did recently remodel the restaurant's bar area, removing a wall, giving it a more open feel and allowing passing guests to see into the unique aquarium bar.
Even beyond the high-dollar Shark's restaurant, SeaWorld's permanent dining options seem to suffer due to the popularity of the new festival booths. It's not uncommon to have long lines at the booths and then find the restaurants, with their far less exotic menus, nearly empty. There are rumors that SeaWorld may be planning to remove one or more of the park's permanent restaurants to make way for new attractions in the coming years, with no plans to replace them, instead shifting more focus on the food stalls that dot the park.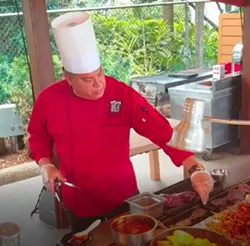 After decades of success at Epcot, it now looks like SeaWorld has finally figured out how to make festivals that are just as appealing. With budget-friendly sample lanyards and happy-hour specials along with an ever-changing menu that has a notable Hispanic influence, it should come as no surprise that SeaWorld points to their festivals as a big part of the driver behind the company's recent jump in attendance.
Now unleashed, Chef Héctor has only begun to show his bold vision for how a theme park can become a true foodie destination, one booth and one festival at a time.
So many restaurants, so little time. Find out the latest dining news every Friday morning with our weekly Food + Drink newsletter.